This summer, a one-liner ad for Starbucks promised, "15-minute vacations."
Brilliant! My favorite "1 teabag, venti chai tea misto, non-fat, no-foam and 7 equals" has provided many of those.
But sometimes, 15 minutes is not enough, and by this August, we were there! The few days away last spring seemed like decades ago, and now, my family needed time just to be. Together. Quiet. Still. Well, with five kids, two adults, and a golden retriever, quiet and still might be too much to ask for, but at least, together. Without twenty-five places to be in the next ten minutes. Even then, it almost didn't happen as we had such a tiny window in time to pull it off; but in a way that could have only been God, He made all the stars align.
And what a glorious time it was! A cabin off the shores of Lake Michigan, secluded in a forest of forty-foot trees just north of Muskegon, Michigan. Walk down a short, shaded path and up and over a vertical dune, and lo and behold, stretched out before you? The most beautiful sand and water. We looked forward to it all summer!
Laughing, singing, doing a 1000-piece puzzle (with the tiniest pieces you've ever seen!), running along forest paths and along the lake's beach, chopping firewood, watching sunsets, woodpeckers, campfires, the blueberry picking I mentioned in the last post,…and, all in all, catching as many rays as possible before the 15 months of winter that already seems to have come upon us. 
I know I mentioned before: I'd come off a particularly hard year: kind of an in-your-face, knock-the-feet-out-from-under-you, fast-pitch-in-the-back-of-the-head kind of a year. So—like a momma duck with her chicks—drawing my children to me before the school year started up again was a necessity.
In preparing and packing, I, of course, had hopes and expectations of how it would go…thoughts of how I wanted it to be… But, being on this side of 40, I've lived long enough to have gained some wisdom: don't set your imaginings so high that reality can't compete.
At this point, I just wanted everyone close enough that I could hold them and know they were safe.
Of course, as a parent, it also doesn't take long to realize—if you hold them too tightly, they pull away: "Mom, you're squishing me. I can't breathe!" Thus, the parent dance. The  "Mommy Give-and-Go." Knowing when to pull them close, and when to let them fly…. Ahhhh, that's the stuff that makes champions!
I'm still learning it.
But that week in August? Just us…and the beach and the squirrels and the sun. I could let them run and swim and play, knowing they weren't far. Yes, it was good!
And I had to soak it up—just like I soaked up the sun—because soon, I would be sending yet another child off to college. I knew she was raring to go. And only two short years later, I'd send two more. Then it would only be three of us, with the last one just last week turned a teenager…Somehow, when that magic number 13 comes, it exponentially increases the speed of time.
I remember when my oldest was in middle school. 7th grade. The same age of my youngest now. She spent her Christmas break and her spring break researching colleges.  Researching scholarships. Evaluating the cost of tuition. She came out frantic: "Mom, I need a job!" I told her, "You have a job: school. And you're only in 7th grade. Take a breath!"
Ahhh, how wrong I was. Not about her job being school. But the "only in 7th grade" part. "Only in 7th grade" only works if no one blinks!
But, of course, someone did. And I was now looking at my oldest in her last half of college; my second, heading off; my twins, starting to select one, and my youngest looking towards it.
So I was left taking the last part of my advice: "Take a breath!"
And what a sweet breath it was in that cabin on the shores of Lake Michigan.
It's not something you can really explain to your kids. Oh, they understand the need for vacations. Summer vacation, winter vacation, spring vacation, teacher workdays, snow days…they love them all. But the need to huddle and snuggle when they're ready to spread their wings? You don't even try.
And then, they surprise you. And you realize some things don't need to be explained.
Our last night of that vacation, as I struggled to let it end, we sat outside at the campfire one last time. Singing songs, laughing, teasing, playing musical chairs to avoid the fire smoke, taking pictures. One by one, they headed up to the cabin. First my husband, then my oldest…my youngest…my twins… Leaving me there.
But my second one—the one heading off to college in just a few days—stayed…next to me…side-by-side on the split tree bench, staring at the flames as they snapped and cracked, the embers glowing, mimicking the stars above.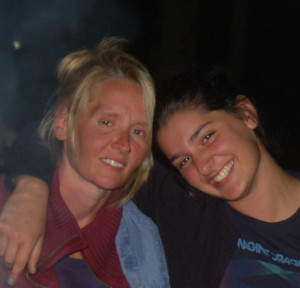 And we just sat.
And then she put her head on my shoulder. And we sang. Together.
And I could no longer blame the wood smoke for my tears.
She understood!…I would let her go, but I would long to hold her. Forever.
In life, we need vacations. Together. Time to get away and just be. Most of the time, especially as moms, we have to take those 15 minutes that life offers us. And make the most of them. And then hold them in our hearts in the same spot we hold our loved ones. Loosely. Enjoying the moment, and then letting go…
But every now and then, we get the cabin by the beach…with a head on our shoulder. And time just to be. Together.
And then, we thank our lucky stars—or rather, the God who hung them so graciously!
Psalm 33:6 By the word of the Lord the heavens were made,
their starry host by the breath of his mouth (NIV).
Psalm 33:2 Give thanks to the Lord with the harp; Sing praise to Him with a ten-stringed lyre (NASB/NIV)
OH, SO MUCH TO BE THANKFUL FOR . . .