I'm sure you've heard it. At least once.
"Why isn't there a Kids' Day?"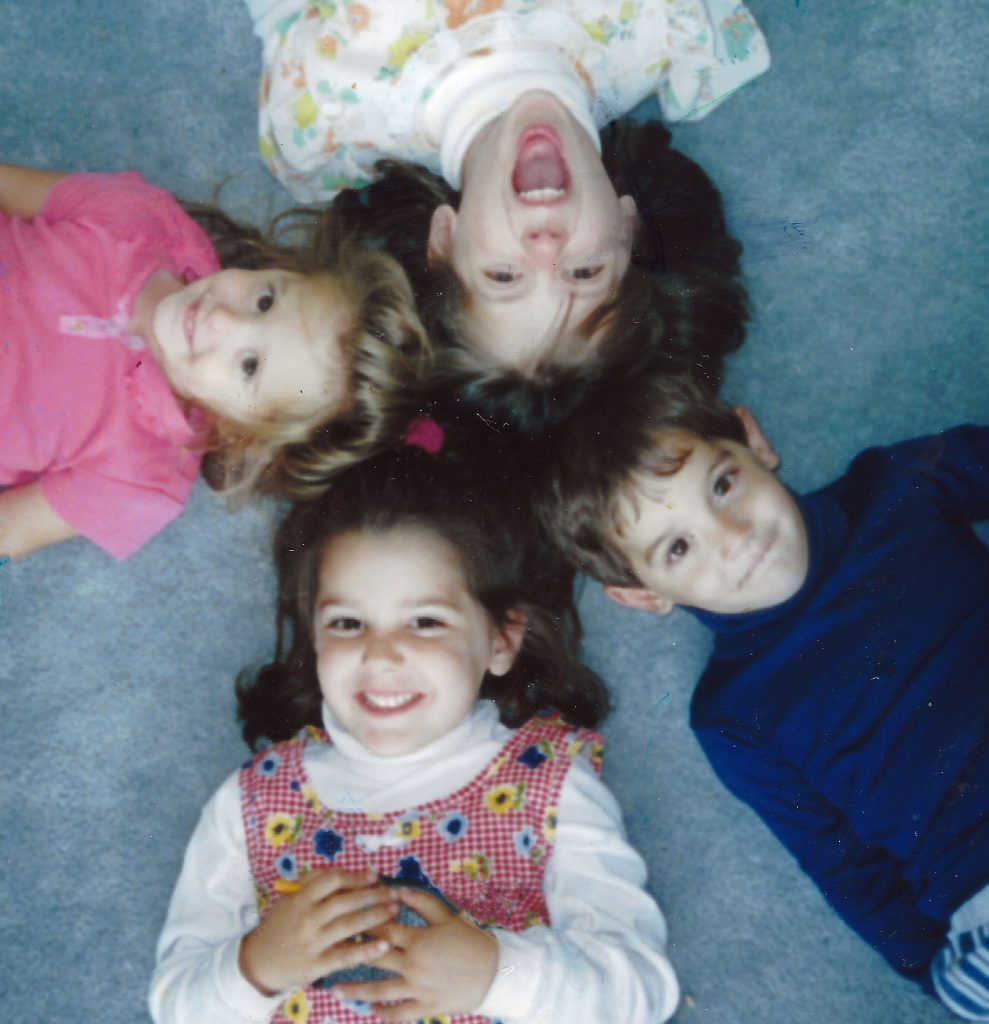 Mother's Day, Father's Day, Grandparents' Day rolls around, and one little one pipes up with the question right in the middle of the festivities.
Most parents have a ready response. "Every day is Kids' Day." And all the adults around them nod.
Been there? I have.
But as I thought about it, I realized it wasn't true.
Yes, kids tend to end up the center of our daily events. They need food. They need carpools. They need support.
But we aren't often celebrating them just for being. For the joy they bring into our lives. For the way they help us change for the better. And yes, for the number of times they incite our speedy ingenuity. Like telling us just minutes before they leave for school, "Mom, I need a brown bear costume today."
Heavens, I wouldn't have HALF as many great stories to learn from if it weren't for my kids.
So, my family celebrates Kids' Day. Because they are more than a responsibility.
They are a gift.
I suppose, as happens with many lessons, I learned the full truth of this the hard way.
Yes, I knew they were a gift with my firstborn. Counting her kicks in the womb. Feeling her first hiccups.
I knew they were a gift with my second one, realizing how different she was from my first. Her own personality, her own talents.
With my twins? I got a buy one, get one free deal! And yes, while it was a lot of work (four kids three years and under), the sweetness of that twin-bond was a gift in itself.
But I admit, there was a part of me that took having babies for granted. After all, it was all happening pretty easily. Not the nine months of pregnancy ("morning" sickness was 23 hours a day). Not labor (my first delivery took 77 hours). And not mothering—I've written plenty of posts about not being super mom.
But getting pregnant. And nine months later, holding a healthy baby. Or two. I knew they were each created by God, each made in His image, but sometimes it felt like the law of gravity. Something I could take for granted.
Until I couldn't.
Baby #5 wasn't expected. Instead, what was expected didn't come, and I realized I should go buy a pregnancy test. We had one car at the time, and my husband drove it to work.
But who wants to wait eight hours with that question on your mind?
I loaded the stroller with toddlers, told the other littles to stay close, and set off to walk the mile to the grocery.
Then again, once you've got the test in hand, who wants to walk that mile back without knowing? So my kids enjoyed lunch at Denny's that day, and I took advantage of their restroom.
Yep, there it was. The pink plus.
Then back to the store to buy a card so I could announce it to my husband. An Anne Geddes photo of an adorable little baby peeking out of an eggshell.
It all seemed so easy. Like gravity.
Until gravity really hit on week 14 when our baby hatched too early.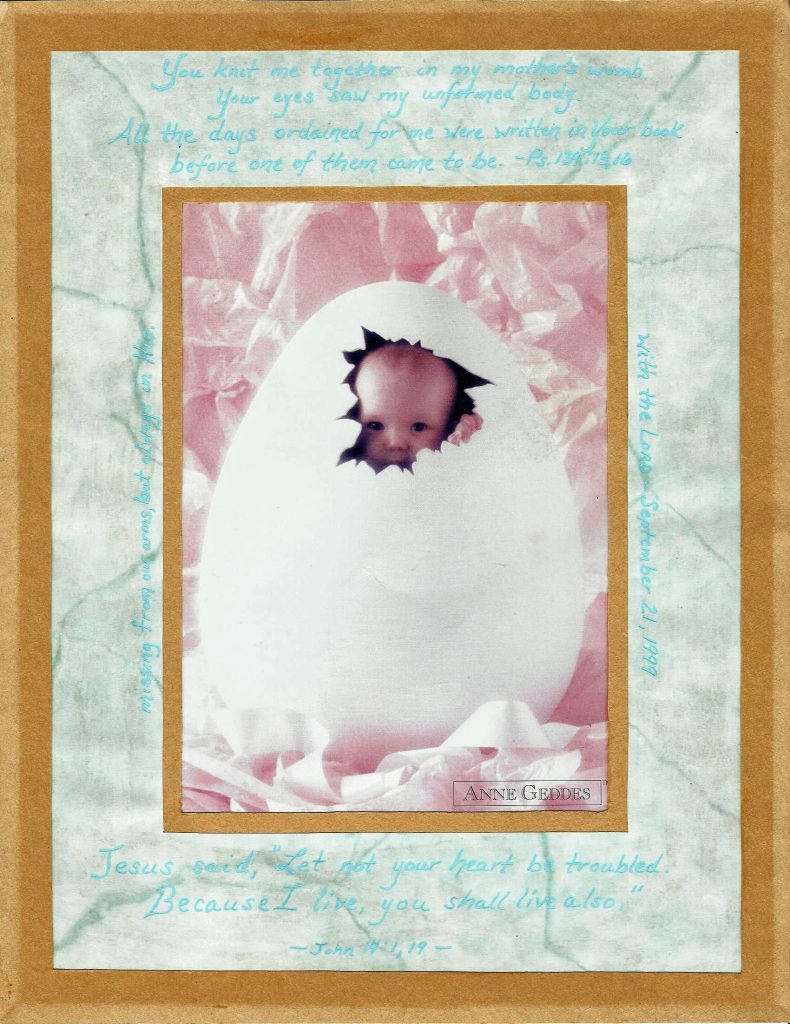 That's when you know. The miracle of birth truly is a miracle. And children are a gift. There's such a little period at the end of that sentence, and yet it weighed heavy on my heart.
Because my arms felt empty.
I know, I had four other children to comfort me. But I would never know this little one on this side of heaven.
When I went to stores and did the whole counting noses to make sure I had all my kids, I'd get to four and my heart would panic. And then I'd remember that was correct. I had no more to count.
And I'd remember those teeny tiny arms, no bigger than strings. Teeny tiny legs. And the largest eyes in that tiny 2-inch body.
And I thanked God for the ones I had.
The psalmist David explains the miracle beautifully:
"For You formed my inward parts;
You wove me in my mother's womb.
I will give thanks to You,
for I am fearfully and wonderfully made;
Wonderful are Your works, …
and in Your book were written all the days that were ordained for me,
When as yet there was not one of them." [Psalm 139:13-16]
Thankfully, the Lord later blessed us with another miracle. She didn't replace the one we lost, but she did fill our arms.
And the Lord's words rang clear in my heart: "Let the little children come to Me." (Matthew 19:14, NIV)
Before He said it, the disciples were trying to shoo them away. Telling them Jesus was too busy for them. He had "more important people" to see.
Instead, His proclamation was clear. Children are a beautiful reminder of who we need to become to enter the kingdom of heaven.
Dependent. Humble. Needy.
Growing in the knowledge of who we were created to be: His children.
Instead, as we become adults, we celebrate our independence. Our do-it-ourself-ness. We know best and we don't want to ask for directions.
And depending on how and where we grew up, we view kids differently: Some want them seen and not heard. To some, they're cheap work force. Some just find them to be a burden—something to prevent.
But Jesus says, "Whoever receives one such child in My name receives Me." (Matthew 18:5)
Don't get me wrong. I'm not idolizing them. It only took me three weeks to see the sinful side of my first precious infant:
While nursing, she bit me. No, that wasn't the sin. Babies do that now and again. It usually just requires a firm "no" with a small finger flick against their cheek. If they do it a second time, you repeat the "no," the finger flick, and stop them from nursing for a bit.
But her response after the second time?
Let me tell you, no one taught her that eye roll. She came out of the womb knowing how to do it. Accompanied by a full head-swivel away from me.
No, kids aren't perfect any more than we are. But Psalm 127:3 states it clearly: "Children are a gift of the Lord."
So when my kids were little, when I went to the store, I wanted people to know I enjoyed my brood. We'd sing, we'd laugh. Did it go smoothly every time? No. I learned the art of grabbing that little bit of skin just over their shoulder blade that would get their attention quietly when they were misbehaving. And there were times when I left a full cart of groceries to take a screaming kid outside—trying not to bawl myself.
But, like the book Love You Forever by Robert Munsch, amidst all the crayoned walls and sticky floors, the paint-covered carpets and broken glasses, I knew how blessed I was to have these children to raise.
And so—we celebrate them on Kids' Day.
It's fun to hear them talking to each other and suddenly realize what day is coming up. "Hey, Sunday is Kids' Day!"
When is it? Well, as far as I know it isn't national yet, so for us, I chose the due date of my one that's in heaven. A celebration of life. We don't do a huge hoopla. Usually a nice dinner, a small gift like a gift card. It's fun to play a game or watch a movie together.
But the main goal is to make it clear: We know they're not just responsibilities. They're miracles. Each one. Specially and uniquely made by our loving Creator. And we are honored to have them.
One day I will meet that little one in glory who helped me learn the lesson so well. That hug will be precious.
Until then, I enjoy the ones I have.
And we celebrate Kids' Day.
(Unless otherwise noted, Bible verses are taken from the NASB translation.)
* * *
I realize in writing this, that there are some readers out there who would love to have a child, and, for one reason or another, it hasn't happened. I pray my words do not bring you more pain—and that the Lord will comfort you as He carries you and your dreams in His arms.

If you would like to talk, I would love to listen. Please contact me.