It's one of our favorite family traditions, dating back to our honeymoon twenty-some years ago in Door County when we went looking for cherries. We filled four gallon pails. (Right! Four! Gallons! I guess we were already planning for the five other mouths coming in future years.) We ate 'til we couldn't eat anymore, made several batches of cherry jam, gave a full pail to the owner of the cute cabin we'd stayed in, and still had plenty fresh to take home in our little Dodge Omni.
Over time, the tradition has grown, with strawberries in the early summer, apples in the fall, and Christmas trees in the winter. (Okay—we don't actually cut one down ourselves, but we [and by "we," I mean, "me"] are picky enough about choosing just the right one that it feels like we did.)
In fact, we've done these jaunts often enough that we've learned quite a few tips. For example:
For a fresh evergreen that will really be forever green (because, yes, of course it has to stay up 'til Valentine's Day!) check all the way inside the branches to the trunk. If the needles inside are brown, the tree is already on its way out.
It IS possible to wear two Snugglies side-by-side so you can carry both infant twins and keep your hands free for picking apples. Two Gerry carriers on the back take a little more finesse, (and I'm pretty sure Gerry doesn't recommend it,) but…it has been done…
And a word to the wise: "Pick your own" means eat while you pick. BUT Hot, hot summer day, young child, high noon, and as many raspberries as she can stuff in her mouth in an hour period—NOT a good idea!
But finally, the biggest hint?
For really good fruit, try to avoid the huge commercial farms—the ones where they have the restaurants and the mazes and the games and the large busses. Nothing against field trips, but a place that caters to all that, from our experience, often doesn't have a lot of time to take care of their plants!
So, of course, when we headed out to Michigan in August, we knew we had to set time aside for fruit-picking. But what to pick in Michigan? BLUEBERRIES!! (My husband's favorite!) Google Michigan for "pick-your-owns," and you'll get tons; we've tried several on the list. But a year ago, we hit the jackpot. (Another hint about picking: When you find the best, don't bother going anywhere else.)
And let me tell you, we found the best: Hyatt Family Blueberrys Farm! (Update: New name, Cole Family Blueberries)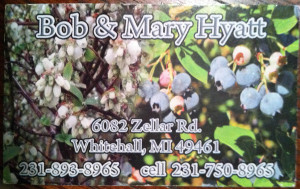 —A wonderful little mom-and-pop pick where they not only take care of their berries, but they're also good stewards of the environment, using only healthy sprays. So no worries when at first  you find yourself  acting like Robert McCloskey's Blueberries for Sal, eating more than you put in your pail. (Minus the bear, of course.) With something like ten different varieties, you can take your time deciding which your favorite is.
And after you DO manage to stop gorging and fill your bucket, you can make sure you're only buying perfect berries…not twigs or stems or berries that you accidentally picked too red or too ripe. They have this nifty screen system to sieve quickly through your catch before you weigh and pay. Although, again, they take such good care of their trees, you won't find yourself losing too many of the berries you picked because their berries are gorgeous!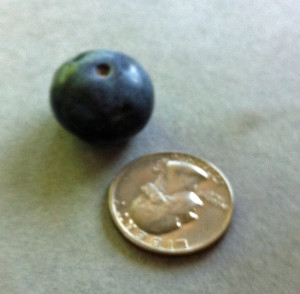 (Yes, the berry in the picture really WAS the size of a quarter; no trick photography used!)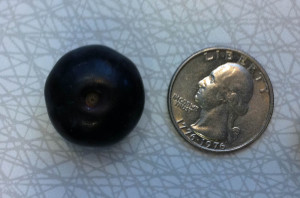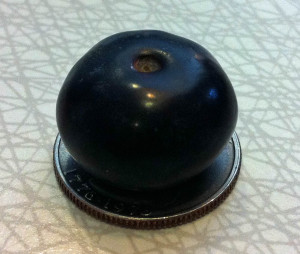 And from our experience, they didn't nickel and dime us either, giving us a fantastic price both times.
Now, assuming your kids don't eat the entire 45 pounds of berries before you even leave the cabin you're staying in, you'll need a way to transport. The Hyatts gave us a wonderful hint of their own: place newspaper in the container before you put the berries in, especially if you plan on freezing them. They stay perfect, and when you take them out to thaw, they look as fresh as when you picked them.
You see why we went back to that farm? And why we'll go back next year?
Best of all, they didn't complain about our singing for several hours throughout their orchard. Or our laughing or teasing or trying to catch blueberries in our mouths. Or racing to fill our buckets. Or our all-around-just-making-wonderful-memories.
And in the end, that's why we keep up this family tradition. Because, while the fruit may only last for a couple of pies, the stories from picking them last a lifetime. Those kinds of memories you take with you forever. Long after all the berries are eaten.
Update: This beautiful farm is still up and running, but the Hyatts have passed it down to some friends, the Coles, who continue to hold the blueberries to their high standard. You can check them out on Facebook at ColeFamilyBlueberries. When you go, mention you heard about them here. 
Psalm 104:24 – O LORD, how manifold are your works! In wisdom has thou made them all: the earth is full of your riches (ESV).