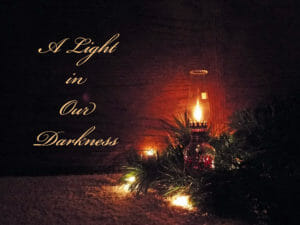 The Christmas story never grows old, does it? –Probably because it keeps speaking to us no matter where we are in life.
I was honored to have some of those thoughts, "A Light in Our Darkness," published as a guest post on BeautifullyBroken.blog.
In the midst of all the last minute preparations for Christmas, take a second to be encouraged by the story anew…
Because, whatever's going on in your life, Glory to God in the highest, He is the Light of the World!
Merry Christmas!
A Light in Our Darkness
I've read the Christmas story a thousand times, as I'm sure you have. Angels, shepherds, wisemen, the full inn, and a manger with swaddling cloths. I've written plays about them, sung songs, even spoken messages at ladies' teas.
But the other night, I heard Luke 2 read again, and the significance of the drama hit me anew, like a giant flashing floodlight: "Don't. Miss. This!"
"In the same region there were some shepherds staying out in the field and keeping watch over their flocks by night. And an angel of the Lord suddenly stood before them, and the glory of the Lord shone around them" (Luke 2:8-9).
Picture it. It was dark. Really dark. These shepherds watched for anything that went bump in the night—wolves, foxes, greedy two-legged thieves, as well as any naughty sheep who decided to go wandering.
No electric lights cut through the shadows, and the men knew what that great darkness could hold. But just down the way in the city, a baby was born—Jesus, the Son of God, the Savior for the world.
Suddenly, the shepherds' entire sphere lit up with the glory of the Lord. First with one angel exclaiming, "I bring you good news of great joy which will be for all the people," then by a multitude, "Glory to God in the highest, And on earth peace among men" (Luke 2:10, 14).
The darkness was gone!
I guarantee any foxes or wolves waiting for lambchops were now running to the hills with their tales between their legs. Yes, the angels went back to heaven, but the shepherds obviously weren't worried about the sheep anymore. They went "straight to Bethlehem" to see Jesus (Luke 2:15).
Fast forward some thirty-three years later, to bright daylight, the middle of the day. At least it was supposed to be light. Instead, at high-noon, it went dark. For three hours. Over "all the land" (Matthew 27:45).
Why? Jesus hung on the cross, dying.
When He breathed His last breath, the earth shook, and the rocks split, and a centurion said, "Truly this was the Son of God!" (Matthew 27:54)
Do you see it? Christ was born, and the darkness filled with light. But as He was dying, the light went dark.
What a picture that Jesus truly is the "Light of the world" (John 9:5) and, without Him, there is no light.
But what does this mean for us today?
My family and I have been through quite the year. First there were just disappointments. A lot of them. Then things got ugly, and I desperately wished for life-size bubble wrap to protect us all.
Broken? It felt more like smashed. Shattered. And nothing felt beautiful about it. We got phone calls no parent ever wants.
Trust me—the wolves, foxes and greedy two-legged thieves were at our door. And we were left wondering, What next?!
I joked in an email about wanting to hide in my house in my pajamas, huddling my precious lambs around me. But it wasn't really a joke. The darkness felt real.
That's where the Christmas story hit me. "I am the Light of the world; he who follows Me will not walk in the darkness, but will have the Light of life" (John 8:12).
He never promised we wouldn't have darkness, just that we wouldn't have to walk in it—or hide in our houses—because He would fill that darkness with Himself as our Light.
In fact, He went into the darkness for us. That day on the cross, it wasn't just about His Light leaving the earth. It was Him fighting darkness. And winning.
I realized I had a choice. I could sit in that dark field and keep watching for wolves. Or I could "go straight to Bethlehem, and see this thing…which the Lord has made known to us." (Luke 2:15).
God came down as a baby to dwell with us, to grow up and die for us, to live forever at the right hand of the Father, bringing His Light permanently to us.
The glory of the Lord is there, shining around us. We do not have to be afraid. His Light can never be extinguished!
Does this mean I won't get another horrible phone call tomorrow? I pray that I won't. But mid-day or midnight, He's there.
My Hope. My Salvation. My Light.
All Bible verses are taken from the NASB translation