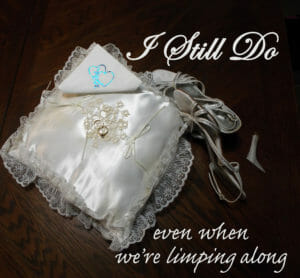 The goal was romantic. What I didn't take into account were injuries. I guess I figured I'd be hurting. After all, I hate the sport.
But my husband loves it. It's always been his release. So I never expected to be able to do more than him. Yet suddenly he was in major pain, and I was burning up the road.
That is until a few weeks before.
Then all bets were off.
If you read my post from last year, Celebrating 25 Years and Counting…One Mile at a Time, you know the promise—my crazy, zany, "what-was-I-thinking" promise that made other wives exclaim, "Please don't give my husband any ideas!"
I told my husband I'd run a marathon with him—one mile for every year we'd been married. This past October, that was 26.2 years. We started well. Sort of. There were quite a few escapades, including my still-broken nose and the resulting "I-told-you-so" from him. And each mile brought thoughts of the marathon of marriage and how I could write it up in a post.
Alas, the posts didn't get written—and the actual marathon had to be postponed. Three weeks before the race, I sprained my ankle on what was supposed to be an easy two-mile run—that's what happens when you're messing with your phone while your feet are moving and the path suddenly dips. (No, I wasn't texting. Just trying to find a better song…)
Either way, the end result? The doctor said the race was a no-go.
But good news—the marriage is still on! 🙂
And, Lord willing, as long as we can avoid any more accidents, we will both be alive to try again this year.
A little less romantic but with A LOT more reality in our eyes!
Which reminds me: If you had a chance to check out my July post, The Marathon of Marriage: When You Have to Run in the Dark, you've read how my husband is my star. But whenever he reads that essay, he says the same thing:
"You've made me look perfect."
No, he is not perfect. Hence, that "I-told-you-so" I got from him when I broke my nose. But neither am I. (Hence, the broken nose in the first place—uh-hum, and the sprained ankle.)
So, in honor of neither of us being perfect, I give you our "Rest of the Story," first printed for our 20th anniversary 6 years ago in the "My Turn" column of Kenosha News.
You'll see there have been plenty of laughs, plenty of joys, but also plenty of times to keep hobbling on.
Because even amidst plans that don't go right—sprains, strains, aches, and tumbles…on the road or in life—it's worth continuing the path together.
I Still Do
20 years ago, we said, "I Do." In some ways, I can't believe it's really been that long—that I'm old enough for that.
In other ways, it's hard to remember life without him. Guess it's no wonder; I've now been married for 50% of my lifetime.
It's a wonderful milestone, one that fewer and fewer are reaching, I guess. It didn't come without its bumps and bruises. The time they thought I might have cancer. The week my friend was killed in a car accident. The day my mother died. There was the surgery that went completely wrong, the long months of recovery after…and the thankful prayers that I was here to recover at all. There was the day he held me as I lost our baby.
But there were the highs, too. Five beautiful children, including twins. Playing football, or as we called it, "hike," in the front yard. Camping—the real kind, with tents and campfires, no running water, no electricity. Trips to the parks. Cheering at races and games, and even at the blistering 90-some degree 2007 Chicago Marathon, where he ran the hottest one in history. After 26 miles, coming into the last stretch, he was told, "Stop running. It's been canceled because it's too hot. It's just a fun run." A fun run? 26.2 miles? My husband pushed them aside and finished! "Baked, Fried and Broiled," but done! There was a trip to the Holy Land Experience in Florida, hiking in the Grand Tetons, and "roughing it" in a 5000-sq. ft. "cabin" on the shores of Lake Michigan.
There were the funny moments. Like 34 weeks into our 3rd pregnancy, when we had an ultrasound and discovered our "2 for 1" sale. They measured the twin babies, announced weights of 2.04 kg and 2.49 kg, equaling 4.5 and 5.5 pounds, and instructed me to eat a Double Whopper with cheese a day.
We lay in bed a week later. I was exhausted. My science-minded husband stared at the ultrasound pictures, suddenly exclaiming, "They calculated wrong! The babies aren't 4.5 and 5.5 pounds. They're only 1.5 and 2.5 pounds!"
I freaked out. Jumping up, I waddled to the kitchen and consumed a giant chunk of cheese, several buns, and two glasses of milk, one with a huge heaping scoop of protein powder. Rolling back to bed, I realized just how little room the babies left for my stomach. I could barely breathe.
He handed me the ultrasounds and rolled over. "Nope. I was wrong. They're 4.5 and 5.5 pounds; they'll be fine."
He went to sleep, and I stayed up with heartburn.
Then there was the time I got too close to the burner and accidentally caught my bathrobe sleeve on fire. Let me tell you, it is NOT natural to "stop, drop and roll." Instead, right or wrong, you scream and wave your arm like a chicken.
There were the scary moments: When my toddler fell down the stairs at a neighbor's and got a concussion. When we found out my son needed eye surgery. When my 5th grader had an allergic reaction that had her looking like the boy in Cher's "Mask."
The crazy moments, like running for the district School Board. The kids still talk about my slipping on ice and laying in the middle of a freezing street when going door to door. My wrist hurt for months afterwards.
There were anniversaries when we had no money, wrapping $1 gifts for each other in cloth diapers. And ones when we didn't have to scrimp so much—saving for a magical 15th in the Bahamas—sans kids.
There were the sweet moments: Praying together, singing together, getting up at 5:00am together to work out at the gym, having him not laugh (too hard) at me the morning I walked into the men's locker room by mistake. Fixing up six different homes together, and then finally planting roots so deeply that we turned down six other jobs in other areas to stay where we are. And now, looking toward a new phase in life when we prepare to send our first child—and our money—to college in August.
So many memories. No, it's not been all roses and perfume—although, my table is frequently filled with his gifts of the former. The latter would be best termed "Eau d' Sweat."
Would I do some things differently? Yes. Hind-sight and all that. But by God's grace, we've been blessed.
20 years ago, he gave me a wedding gift: a beautiful rocking chair. And told me he wanted to grow old with me.
I can't think of a better thing to do.