In honor of Mother's Day,
here's a post for the other 364 days…
[Originally written and published in my Kenosha News "My Turn" column]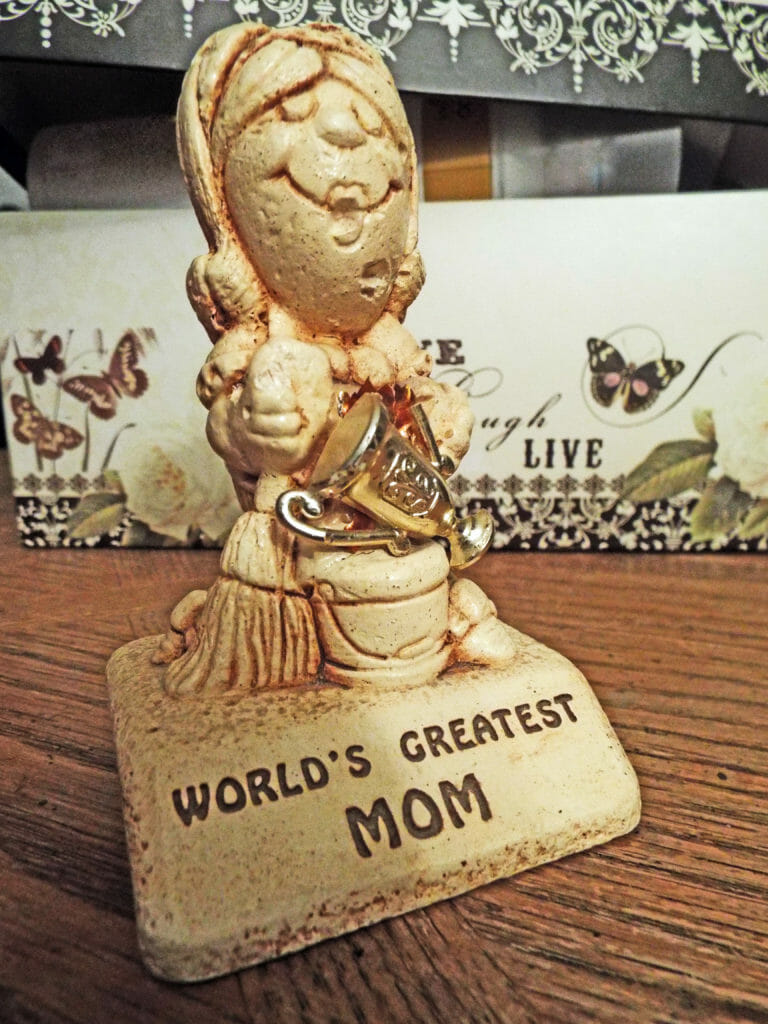 I don't think I've ever seen something so ugly.
At least as far as "dustables" go: Those trinkets you put on your shelf that just sit, collect dust, and look pretty?
Well, this one does the first two, but NOT that last.
No, this was something only a REALLY good friend would give you, knowing you'd laugh every time you saw it.
Either a really good friend—or your child, who'd hold it up proudly, thinking it the most beautiful thing in the world.
Next to you, of course.
You'd smile and hug him, tears in your eyes—because you knew he loved you, not because you were trying not to laugh. (Okay, maybe a little of the latter.)
And when he wasn't looking, you'd drop it off at Goodwill ASAP. Which is where my friend found it. Sitting there, begging for a place of honor in some house, if only for a joke.
It's a small figurine, not four inches tall, but so large in its message: big hair, huge lips, goofy smile, interesting outfit. (Think: mop-lady cartoon for Carol Burnett.) Holding a trophy, imprinted: "World's Greatest Mom."
i.e. "Mother of the Year!"
Boy, I've won a few of those!
Like one time:
The neighbor kids loved to ring our doorbell. Constantly. One day during naps, the ringing began.
Over and over again.
Frustrated, I pulled the sheet over my head. Then the blanket. Then the pillow.
Finally, the phone rang with my other neighbor on the line: "You know your 2-year-old's on your front porch, trying to get in?"
Great!
So how did that happen? Twenty minutes earlier, my husband left for work. Apparently my son, wanting to say goodbye, escaped crib and front door—only, too late—and got locked out.
Wearing nothing but a diaper. That hung down to his knees.
Then there was the day I bought my preschoolers lunch at the mall. One almost spilled her little kid's drink. I grabbed to save it—
and knocked my entire very-cold, super-sized Diet Coke all over her.
The stories could go on and on.
In fact, they did. For one whole year, I filled my monthly school column with them, in a series titled, "No SuperMom, and Definitely Not Perfect." I never received so many comments—or laughs.
Some favorites?
The time I forgot to come to my daughter's play—she had the lead.
Or the time I didn't realize one of my kids hadn't woken up for school. Found her still asleep in bed—at 11:08am. To be fair, I was horribly sick and just wanted to go back to bed myself.
But no such excuse the day I drove all the way to piano lessons…then realized I hadn't brought the child that needed to go!
Yes, I've got doozies! And people seem to love hearing them.
Why?
Probably several reasons, one of which, I can be quite goofy…"legally blond" and all. Entertaining "open foot, insert mouths."
But I'm thinking, another big possibility? In reading my mess-ups, they realize they're not alone.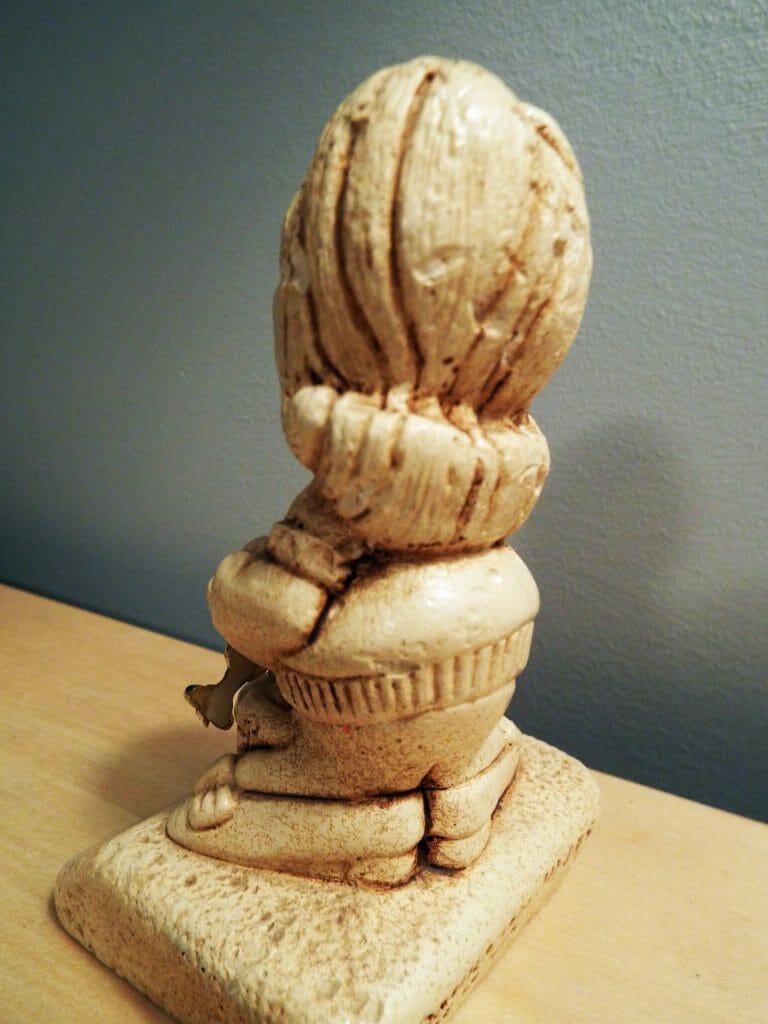 Goes back to that little figure. And the reason someone made it in the first place.
We want to earn the trophy—for real. But instead, we feel like the lady behind it. Frumpy…bizarre proportions…needing the dust wiped off.
"No SuperMom, and Definitely Not Perfect." It's become my mantra.
It all started when a sweet reporter asked me if she could take pictures of my family. The day the article came out, someone suggested a new title: "SuperMom."
Not Me!
So I wrote. Story after story. And someone said, "Glad to see you make mistakes. Makes you one of us." And someone stopped me in the parking lot: "Please, write a blog. I laughed 'til I cried." And someone stopped me in the store: "It's like you're writing about me. Feels so good to know I'm not the only one."
So many people—all needing to hear it's okay.
Because in the end, maybe that little "dustable" IS the most beautiful thing in the world—the perfect depiction of being able to laugh at myself.
Doesn't mean I quit trying. To do well. To do my best.
But in all honesty?
I'll probably win many more "Mother of the Year's" before my kids are all grown. Meanwhile, I'm glad for friends who are willing to enjoy those crazy moments with me.
Yep. It's definitely staying on my mantle.
I have a feeling I'll be needing quite a few reminders.