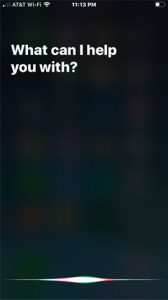 I had a fight with Siri today.
Ok, to be truthful, it isn't the first time. Just proves, once more, my abusive relationship with technology. I love it, and it just keeps beating me up!
For those who haven't met Siri, he's the voice recognition software on an iPhone 5 that's supposed to make your life easy and stress free by helping you call, text, and find anything on a map or on the web. I say "he" because my son changed my settings to the British guy. I used to have a woman. She wasn't any better.
It all started when I tried to phone my husband. "Call 'David.''"
Alright, another confession. I don't actually have him listed as "David." Officially, he's typed in as "(-:David:-)"
On my old iPhone, I'd say, "Call 'David.'" That phone didn't have "Siri." Just an anonymous voice: "Calling, 'Comma Colon David, Colon Comma, Mobile." It made me smile every time I called him, even if I wasn't already smiling.
And, at first, when I got the new iPhone, I smiled even more, because calling "David" now became, "Calling, Comma Colon David Smiley."
But suddenly, something changed—I have no idea what. Who ever knows with technology?
And especially with Siri!
I'd say, call "David." And it'd say, "Okay, there are 3oo Davids in the area. Which one would you like?"
One day, I told my girls of my frustration with Siri's new "helpfulness." One of them decided to try: "Call Dad."
Siri's respone? "I don't know who your dad is. In fact, I don't know who YOU are. But you can fix that by going into my settings." My son decided to do just that. So now, Siri says my name when he's not being helpful. "Okay, Elizabeth, which of 300 Davids would you like?"
Honestly, I've found myself using language I don't use! After twenty minutes of trying to get him to comprehend my request, I finally blurted out, "Siri, I hate you." That, he understood: "Well, that doesn't sound very nice!"
Then, today, Siri chose not to recognize homophones anymore. Those words that sound the same but may be spelled differently and have different meanings. I said, "Call 555-2278."
Now, a quick rabbit trail. If you've watched any television or movies, you know that wasn't the real number I told Siri to call. If I did, Siri would probably tell me Hollywood uses fake "555" prefixes for phone numbers so viewers won't call to see who answers—which, of course, is why I use it now. In fact, according to Cecil on StraightDope.com (July 21, 1978), "dialing the 555 number plugs you into directory assistance, where a legion of professionally trained operators awaits to answer the particular crankiness of your call."
I'm not testing it to see if that's still the case.
And, thanks to Siri, I wouldn't be able to if I wanted to. Because, since the numbers that follow are similar to my friend's, Siri doesn't understand that "2" is a number. Especially when it's next to another "2."
The screen showed [5552 to 78]; and Siri's voice, "I'm sorry, I can't call '5552.'
That second "two"? Apparently means "to." Wouldn't school kids all over rejoice in that?! No more red marks on their papers for misspellings. Siri says it's so!
I tried again. "Call '555, twenty-two, seventy-eight."
"I'm sorry, I can't call '555 twenty.'"
A third time: "Call 'fifty-five, fifty-two, twenty-seven, eight."
"I'm sorry, I can't call 'twenty-seven eight."
Maybe I just needed to teach it: "Siri, do you know that "two" is a number?"
"Let me look that up for you. I have here five sites on numerals."
"Okay, then call 555-2278."
"I'm sorry, I can't call '5552.'"
So then, I admit it, I used the "D" word! "Siri, you're DUMB!"
And Siri's response? "After all I've done for you?"
"What have you ever done for me, Siri?"
"I'm sorry, I don't know what 'What have you ever Delaney' means?"
"No! What have you ever done for me?!"
"Let me look that up for you."
And then it hit me. I was arguing with a phone. So much for making my life easier and stress free!
Again, it wasn't the first time. I don't remember ever wanting to throw something across the room until I started dealing with computers.
And I know I'm not alone.
In fact, when I was in college and a thousand miles away from home, my father had a standing offer: I could call him anytime, day or night, even at 3am, if I had computer troubles. Like the time the computer ate my 20-page paper—three times!!! No matter how many different ways I saved it and backed it up.
Boy, who needs a dog anymore!
But that was way back in the 20th century; things have gotten better now, right? Recently, I spent three weeks working on a thirty-minute video, including all sorts of special effects, for an awards program. The day before the presentation, I opened it up to burn the DVD. All I had was a blank screen.
The entire thing was gone.
I now keep backups of my backups.
My home safe? Forget jewelry. Mine is filled with disks and files and drives of all those backups.
Of course, another time the file was fine, but the DVD wouldn't burn; only it didn't tell me that. Just left me with the dripping hourglass thing for hours.
Or the time the DVD burned beautifully, but knowing how many issues could come up, I spent two hours before the presentation making sure it played perfectly in the equipment: Sound? Check. Picture? Check. Cords plugged in, tight, and taped down? Check, check, and check. But, just when I stood in front of 500 people ready to watch, the exact same DVD player got stage fright.
It decided not to recognize it had anything in it at all.
Face it. No matter how much we love technology, we can't depend on it! One day, teaching fourth graders, I didn't know the answer to something. "Don't worry," I told them. "We have Google! You've gotta love Google." Then, seconds later as we saw what came up, "Ummmm, you can't trust everything on Google." Then again, moments later when we found the right answer, "See? Thank goodness for Google!" The kids started laughing: "Mrs. Daghfal!"
Yes, I could go on for days. Just proves the truth of Ecclesiastes 1:8, "All things are wearisome; Man is not able to tell it" (NASB). I bet you have stories of your own. I'd love to hear them!
So why do we put so much emphasis and trust in machines when they let us down so often?
It's a good question. I don't have the answer. Maybe I should Google that.
Or ask Siri.