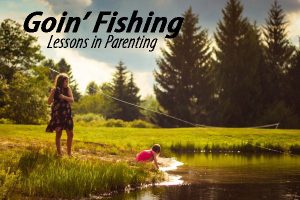 Cisco Cotto said it one morning on Moody Radio Chicago:
"What if we showed as much patience at home as we do fishing?"

I'll admit, I've not fished a lot.
Okay, maybe twice.
Once, when I was young and spent the whole time seasick and sipping 7-Up.
And once on a field trip with my kids during a catch-and-release. That time, I caught a tiny 4 x 4 inch bluegill. You'd think I'd just won the "largest fish ever" award for the size of my smile.
But even with my limited experience, I know different fish go for different bait, different poles. Some fish take a lot of muscle to actually get them out of the water. And some fish may take your life in the catching. Like Ernest Hemingway's Old Man and the Sea. Or Herman Melville's Moby-Dick.
But one rule seems to cross the fishing gambit. You go in screaming and yelling, you're probably going to leave with an empty bucket.
So why in the world do we think it will work with our kids?
I don't write that lightly. Because while strangers may comment on my soft voice, my kids could tell you—I know how to make it boom.
And I'm not saying there's never a time to make sure children feel the resonance of our seriousness…the ground shaking under their feet…the "drum rumble" in the pit of their stomachs.
I can think of more than one situation where the quiet, patient voice of the whole day had little to no effect compared to the one time bellowed, "STOP!"
After all, even Christ used the whip to overthrow some tables in the Temple.
But do we go there first? And often?
All that got me thinking—How interesting that the Lord used the picture of fishing for men to reach people for Christ.
And I have to ask myself, How do I do at it?
When we're showing our children Christ, do we come blasting in with a loud voice? "Take the bait! Take the bait!"
Do we bombard them with it, heaving it at them like a large boulder in the pond?
Do we get upset when they don't take the bait the moment we throw out the first line? Expect to walk out on the shore, hold out our bucket, and just have them jump in?
Or do we patiently draw them in, looking for just the right bait, with just the right throw, talking to a minimum, actions at the forefront, with just the right whispers of the line to help them notice the bait.
Of course, as with any picture, fishing can't depict all the aspects of drawing people to Christ.
So, obviously, it isn't the only one the Lord used.
He also asked us to shepherd His flock, a more day to day interaction than a one time fish-and-bait catch.
Now, the more I hear about sheep, they aren't a flattering metaphor. They have the habit of undermining their own safety by wandering off on their own. Wanting to go their own way.
Probably how children earned the synonymous name, "kids," right?
But either way, again, a shepherd won't have much luck running through the flock, screaming at the one who's headed in the wrong direction.
Yes, there are times to use the staff and rod. To pull the wayward sheep from the brink of disaster.
But a lot more time needs to be spent on gentle ministrations and quiet whispers in the lamb's ear.
So he knows his shepherd's voice.
And then, there's the picture of "running the race."
Hebrews 12:1: "Let us run with patience the race that is set before us" (KJV).
It's the day in, day out sanctification where we find ourselves running alongside our children. Not just coaching from the sidelines. Both of us changing and growing and learning and struggling to keep on keeping on.
If we're running our own race well, we should have just enough breath for encouraging talk. But we'd be wasting a lot of energy on screams and yells.
Unless it's a few well-placed, "WE'VE GOT THIS!!"
And those times when we are cheering from the side? I've been to enough track and cross-country races to know! Yelled encouragement works.
Yelled "Move It!" just makes them mad enough to slow down.
Or even give up all together.
One day years ago, my own results from fishing/shepherding/running— or lack there of— hit me head on, this time with a friend…
I'd been praying for years for her to find Christ and was so excited; she was coming to visit.
But she called. Suggested I might not want her.
And I suddenly realized!
She was afraid I'd be judgmental. Condemning. Reproachful.
In tears, I begged her to come and then sat down and wrote a poem that I now keep glued to my calendar.
A reminder in my work, my friendships, my parenting. Of what it means to be a fisher of men.
What Jesus do they see when they look at me?
One compelling them to come in out of the bondage of sin?
When they look into my eyes,
Do they see His longing smiles?
When they hear the words I say,
Are they drawn to His loving way?—

Or do they want to run away?

Do they see the One Who can set them free—
or only selfish me?
Or said another way, 1 Cor 13:1—
"If I speak with the tongues of men and of angels, but do not have love, I have become a noisy gong or a clanging symbol…" (NASB).
It's easy to let the temper fly at home when our kids are being "kids!"
But if we remember our purpose, our hope in Christ, we will set aside our own thoughts and feelings, and look to Him, His grace, and His patience—Both for us and for them!—And gently let the fishing line fly instead.
Then, at end of day, we will find our bucket full, our sheep safely in the pen, and the race won.
What do you think, Friend? Feel like going fishing?