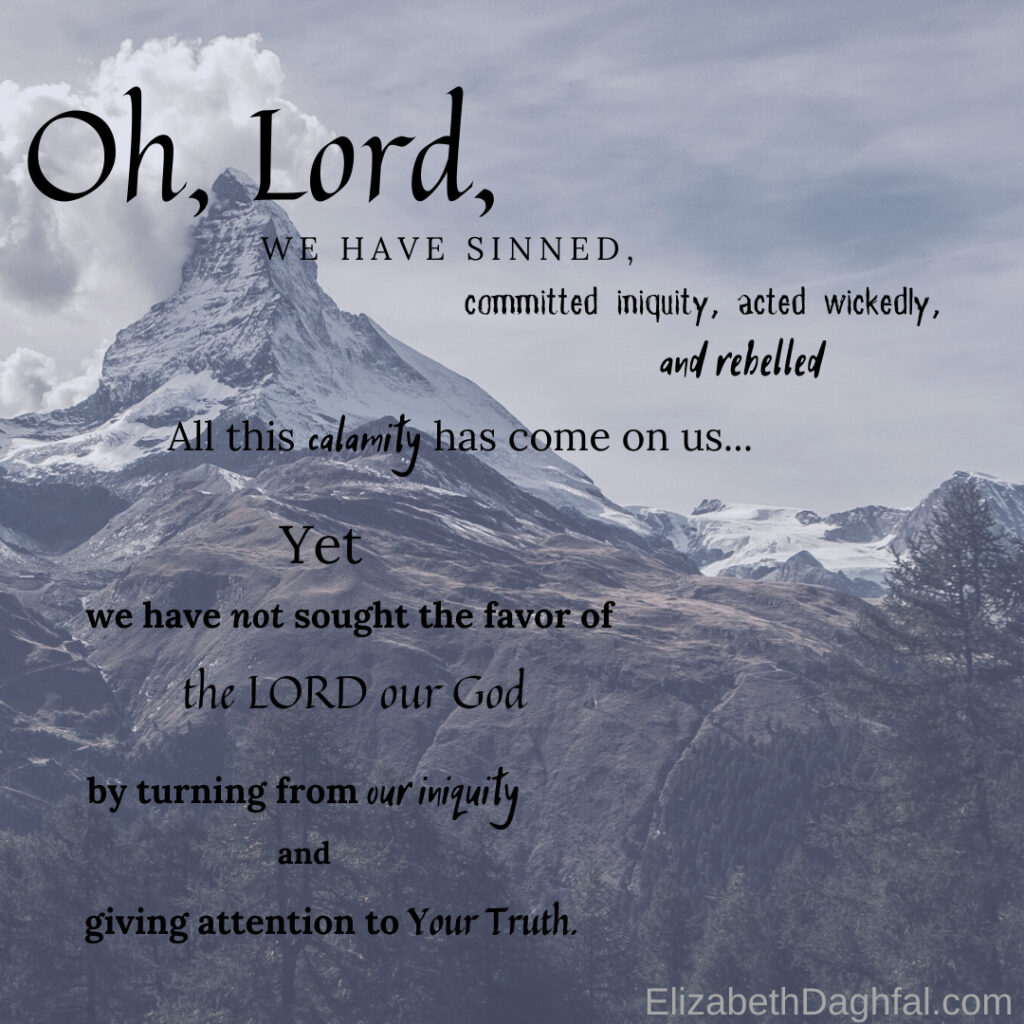 I've been thinking a lot about Daniel lately. The Old Testament one.
Not about his strength, his steadfastness, his willingness to follow God no matter the consequences, although those are great qualities.
And not about his being in the lions' den, although that is a great story. A man stands up for what he knows is right, and God clamps those lions' mouths shut. (In the VeggieTales' version, they even share a pizza. Funny, but not my focus.)
Instead, I've been thinking about his fear. What made his face pale, even to a deathly pallor. What caused him to be exhausted and sick for days. And what caused him to fall on his face. You can read about it in Daniel 7, 8, and 9.
But the end result? [Daniel 9:4-13] He "prayed to the Lord and confessed,
'We have sinned. We have not listened to Your servants the prophets who spoke in Your name…
We have not obeyed the voice of the LORD our God to walk in His teachings which He set before us.…
[We] transgressed Your law and turned aside, not obeying Your voice.'"
And then the part that seems to speak directly to our past months:
"All this calamity has come on us. Yet we have not sought the favor of the LORD our God by turning from our iniquity and giving attention to Your truth."
When the virus hit, I admit I struggled. I don't like change, especially with so many unknowns.
But I thought, maybe the Lord is using this to turn us toward Him. To see our shallow priorities. To realize the brevity of this life and look toward the next. Our pastor coined it, "living for the line" (eternity), "not the dot" (our time here on earth).
Yet—instead of prayers of repentance, it all turned political. Even Christians were calling each other names.
"You don't wear a mask? You must have failed high school."
And on the other side, "You wear a mask? You must not have faith."
"All this calamity has come on us. Yet we have not sought the LORD."
Believe me, I repeat that humbly.
Because, while I didn't participate in name calling, my own Bible reading was numb. I went through the motions, reading the text but feeling as isolated from God as I was supposed to be from my neighbors. I prayed, but the words hardly passed higher than my head.
And I found myself asking, what will it take to bring us to our knees.
Sadly, we soon found out. One man decided he was judge, jury, and executioner.
Even then, some used the situation, not to call out to God, but to bring about more evil and injustice. Destroying businesses and homes of the very people they claimed to be fighting for.
Like Daniel, my face paled as I heard some justifying those actions.
But thankfully there were the other stories. People bowing together to pray. Calling out to God.
In the midst of it all, there is still confusion. What does this phrase mean? What does that group want?
Truthfully, I don't know.
What I do know is there is only one answer.
"Set your heart on understanding and on humbling yourself before God." [Daniel 10:12]
Do we do that?
We call out to the Lord about other people and what they are doing wrong. But often, if we actually admit to our own sin, it's still just something like, "I should show more grace to them when they sin."
But Daniel didn't sugarcoat it. Instead, in his "extreme weariness," he confessed his own sins and the sins of his people [Daniel 9:20, 21].
"Oh my God, incline Your ear and hear! Open Your eyes and see our desolations for we are not presenting our supplications before You on account of any merits of our own, but on account of Your compassion.
O Lord, hear!
O Lord, forgive!"
We laud this prophet as strong and faithful, willing to go to the lions' den.
But if I really want to "dare to be a Daniel," as the song says?
Then I need to realize that long before he faced those mouths, he realized who REALLY had the power over life and death and rulers and dreams. So he humbled himself before God, and THEN the world saw that he had an "extraordinary spirit."
His prayers didn't necessarily stop him from going through trials—but they protected him while he was there.
And God used it to display His power to all those around him.
So what about me?
In the midst of all this calamity, will I wring my hands and spout off on my soap box? Or will I seek the Lord…setting my heart to understanding?
It isn't always easy. It definitely takes humility.
But when my face is pale with fear, that is the only answer.
Then [the angel] said,
"Do not be afraid, for from the first day you set your heart to understanding and on humbling yourself before God, your words were heard" (Daniel 10:12).
[Note: All Bible excerpts taken from NASB translation.]
******
A prayer I wrote many years ago…But it fits for me today.
Oh, precious Lord, where am I
that I cannot find You?
What am I stuck in
that I cannot walk by Your side?
What is covering my eyes
that I cannot gaze on Your face?
In my mind
that I cannot understand?
Binding my hands
that I cannot praise You?
Muffling my voice
that I cannot sing to Your name?
Oh Lord,
hold me—
for I am tired,
empty,
and lonely.
I cannot love,
for I am in the way.
My fire is out,
and I'm cold inside.
Please blow on me
that the flame may
light anew.
Breathe in me
that Thy Spirit may
fill me once more.
Take over my life;
Get rid of me, I, and mine.
Teach me again
to find You
to walk with You
to gaze on Your face
to understand
praise
and sing to Your name.
For without You,
I am nothing;
But with You,
You are ALL!
—Elizabeth Daghfal
Aug. 14, 1994