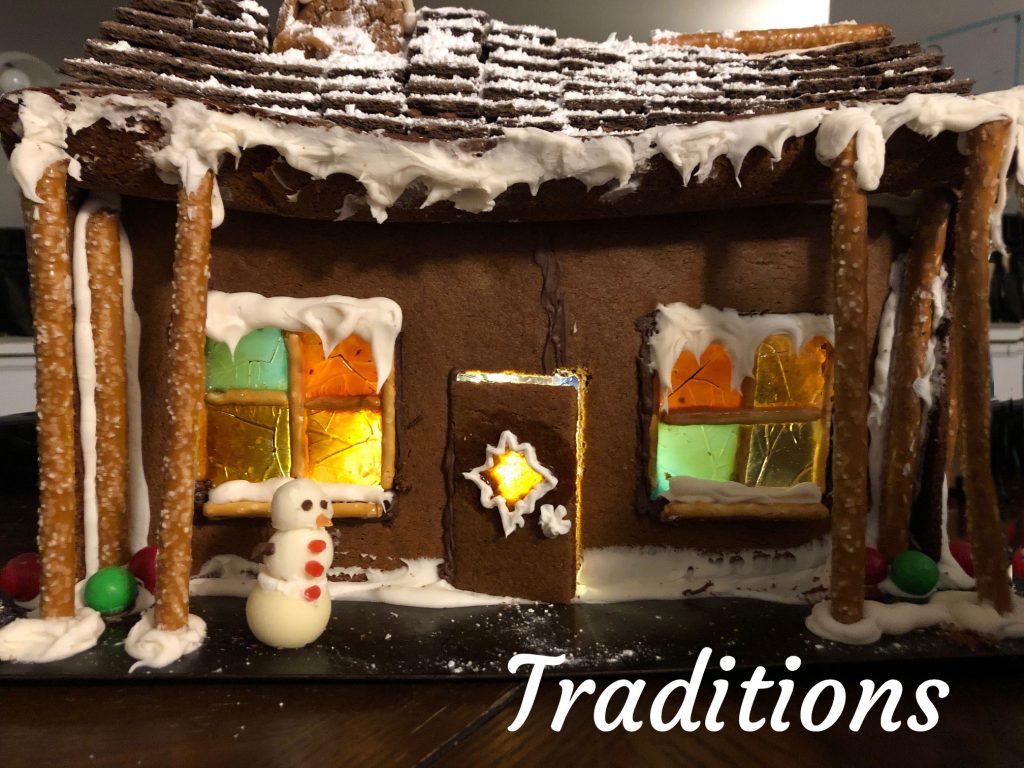 She made Christmas.
Not created it… It's Christ's day. Celebrating Him and all He is. His birth, life, death, resurrection—all to open a way for us.
But He has given us the blessing of celebrating His day.
And we didn't realize how much of our celebrations…our traditions… were wrapped up in Mom. Until she wasn't there.
There were seven in our home. Mom, Dad, Grandma, and four kids.
Our living room wasn't large, but we always had a beautiful real Frazier fir Christmas tree—Mom hated artificial.
Dad always did the lights, done so perfectly, you couldn't even see the wires, and we hung the rest of the decorations, a mix of homemade and store-bought ornaments.
Minus the tinsel.
Unless we had the patience to place it one. strand. at a time.
The tree went up at different times different years, probably closer to Thanksgiving as we got older.
But no matter what, it always came down on New Year's Day. No ands, ifs or buts.
It didn't take us long to realize Grandma filled the stockings.
Oh, how we tried to stay awake to watch her, but somehow, she knew when our snores were real.
Probably because we didn't usually snore.
And come morning, we were always surprised to see the transformation of flat to overflowing—stuffed with a new toothbrush, a pad of paper, and other goodies…including shelled walnuts and pecans that were never eaten, just recycled year after year from the bottom of the red socks. Until, finally, maybe fifteen years later, when we finally pulled out a nutcracker—and realized the nuts had long since become inedible.
Think black dust.
Opening gifts was an all-day experience. It wasn't about opening what you got. It was watching other people open what they were given.
At some point and time, Dad always joked we should stop for a nap, triggering our immediate, Noooooo.
There were breaks for snacks (homemade cinnamon rolls, popcorn) and dinner prep, but other than that, we stayed in our pajamas and enjoyed Christmas music on our record player while we carefully slit wrapping paper open one at a time—neat enough to save the paper for next year.
Buying those gifts?
We went to the bigger of two local malls. Crabtree Valley. And we split up—back in the day when an eight-year-old could safely walk the mall aisles alone.
We chose a meeting point, both for lunch and to find Mom in case we had questions or wanted her suggestion on the red or blue one.
Of course, we spent most of our time waiting for everyone to actually get together at the same time. Someone came late, someone ran off quickly to check something before someone else got there, someone stepped away just for a moment…
But lunch was always the same: a box of 50 Chick-fil-a chicken nuggets. With seven people, we each got seven. Not sure where the extra went.
(Dad?)
There were always several back and forths to the van to unload the gifts. And then, finally, many hours and two meals after we started, we all piled back in to head for home, giving up a coveted parking spot for other crazy shoppers to fight over—literally.
Once two guys got out of their cars, ready to duke it out over who was waiting for our spot first. Dad expertly maneuvered the Chevy conversion van (no mini-vans back then), and Mom held on to the arm rest with white knuckles. (I come by it honestly, kids.)
As my father's last tight turn out of the parking lot merged into another throng of hectic drivers, Mom turned to Dad and wearily slurred, "Boy, honey, I'm glad it's you driving and not me!"
Then she hiccuped.
And we died laughing. Picture-perfect timing from my tea-totaling mom… In the words of Discover Card — Priceless.
Just writing about it, all the memories flood back. Year after year. Christmas after Christmas.
And then came the one when Mom wasn't there.
And everything was different.
No, she wasn't the instigator of every tradition. But she was the center of it all. And while we could go through the motions of each and every thing, it wasn't the same.
Because suddenly we realized it wasn't each and every one of those events that made the traditions.
It was the people we were with. The laughter. The hugs. The funny quips that we'd repeat.
Like the hiccup.
Now, years later with my own kids, we have our own special traditions. The long day of opening gifts, which often does include a nap. The Advent Book. The stockings treasure hunt. The gingerbread house contest. The shopping huddles—an ever-growing tradition which will make its own post one day.
But even that has had to change. College let out later than normal. New jobs were super busy. And hardest of all? Plane tickets didn't work out—meaning an empty seat around the table. Around the tree.
So we kept what we could. Modified where needed. Used technology when possible. (Thank goodness for WhatsApp—when it works.) And, yes, fought tears here and there. (I admit I couldn't handle the empty stocking. So I stuffed it anyway.)
All in all, it was a sweet time.
But I had to keep asking myself—what if none of it could happen at all?
Traditions are sweet. Yet sometimes those years where things don't go just right make the family memories even stronger.
Like the year I got the stomach flu smack dab in the middle of unwrapping presents, and we had to open the rest the following day.
Or the time one had to work all day. (Hospital ICUs don't close on Christmas.) So we bumped the whole celebration 24 hours later.
And this year, when we video-chatted to include the one 6,000 miles away in the treasure hunt.
We prefer the years when we can all be together. When our plans go smoothly.
However, from the very beginning, we wanted traditions that added to family time. Without taking away from the real meaning.
Because while He's given us the blessing of celebrating His day, it's REALLY all about Christ.
God with Us. His Word manifest, Grace appearing.
He left His throne in heaven to be born here as a baby. To live life in our world. To die the death we should have died. And defeat that death.
Even when that death is Mom's.
She made Christmas for us. And I want to create memories for my kids that they will cherish.
But Christmas trees die. Gingerbread houses collapse. Stockings develop holes. And sometimes seats stay empty.
December 25th is one day.
Christ? He's for the whole year. Plus yesterday, today, and forever.
And one day, I'll get to celebrate Him in heaven with Mom — and all who love His appearing.
Praise the Lord, that's not just a fun tradition.
That's LIFE.