It all started…
(Isn't that how all "oh, no!" stories begin?)
Well, this time, it started with a phone call. From my husband who'd just arrived home. Asking what we were burning in the oven.
Not a good question when I hadn't been home for hours.
And when I say I hadn't been home, I mean no one had. At least not long enough to mess with baking. It had been one of those crazy nights in which each of my children needed to be somewhere else—usually across town—every fifteen minutes. An evening where I put an easy one hundred "in city" miles on my poor van. Just traveling back and forth between high schools.
No, supper hadn't even been thought of, let alone started.
Yet, somehow, the oven burned so hot, it scorched your hand if you touched the OUTSIDE of it!
So, either someone broke into my house to broil a pizza, OR my time-bake oven turned itself on.
Now, I LOVE my time-bake. Coveted one for nineteen years before we finally bought one. But, personally, I prefer when I set the time for it to bake.
Anyone else thinking Arnold? from Terminator?
No lights shown on the display, but blazing heat and that appetizing burned smell permeated the house, proving what none of us wanted to believe. My husband turned on the exhaust fan, but, an hour later, it still hurt to touch the outside of the range.
We unplugged it.
Ok, now we didn't have to worry about my house going up in flames, and the Sears guy said it was "just" a matter of an electrical control gone bad. However, I had another problem. I had seventeen people coming to my house for dinner the next day, and, while I could use the crock pot and the grill for most of it, I had to bake a cake! And, no, I couldn't just go to the store and buy one. It was supposed to be a present. The kind of home-made goodies you wrapped up carefully in aluminum foil and put in a gift bag…
What to do, what to do??!!
Ahh, no worries. We have Google! No, as far as I know, Google hasn't figured out a way to bake cakes by itself. (My oven's ahead of Google on that one.) But it can tell you how to microwave one!!
What I learned?
Take your favorite recipe and:
Decrease the least-rich liquid by 20-25%: Contains eggs, oil, and water? Reduce the water. (1 cup water becomes a little over 3/4 cup water.

Decrease the power (depending on the temperature): 425°F =100% power, but 350-375°F =70% power

Decrease the bake time

to

25%: If your oven recipe calls for 40-50 min, your microwave will only take 10-12 min. (As in any baking, go for the shorter time and add more as needed.)

Let it sit in the microwave for about 6 min after it "dings." (It keeps cooking.)
I'll admit, I wasn't willing to waste time baking completely from scratch if it didn't work, so I bought two boxes of Pillsbury Pumpkin bread mix, computed all oven directions to microwave numbers, made sure I used a microwave-safe dish (IMPORTANT!), and watched anxiously through the window as it whirled around.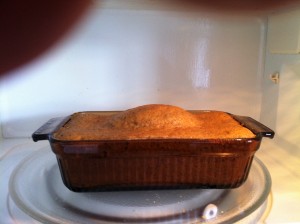 Guess what. It turned out fantastic. Yes, there were differences. The outside felt a bit damp rather than crusty, and the top "bumped" in the center rather than the perfect curve-top that you hope for in the oven.
But it tasted SO GOOD! In a fraction of the time!
Who knew?!
But what did I REALLY learn? Well, I have to say, I'd never have tried baking in the microwave if it hadn't been for my broken oven. If I have the time—and a range that only turns on when I want it to—I'd still choose the oven.
But now, I have options! And fast ones at that.
So, lesson learned:
The old adage still rings true. When life gives you lemons—or, in this case, a broken oven—it doesn't mean life's gone sour. But it could be time to change up the recipe.
Or said another way, When God closes an oven door, He may just open that microwave window…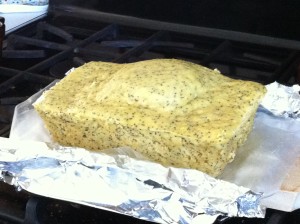 And about those lemons?
I don't know about hot lemonade,
but I tried microwaving lemon poppyseed bread next.
My son couldn't get enough of it!
Your turn. What "oh, no!" story in your life right now might be the beginning of some incredible discovery? Tell me about it in the comments.
"Giving thanks always and for everything to God the Father in the name of our Lord Jesus Christ" (Ephesians 5:20, ESV)