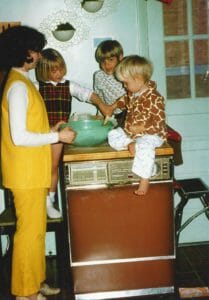 She wrapped her presents with her eyes closed.
Why we didn't wait until Dad got home to do it, I couldn't tell you. It meant no disrespect for him; he'd obviously helped us buy them. But each birthday and Mother's Day, we stood on a stool by the washing machine and made Mom close her eyes as she helped us put her gift in a box, cut the paper, fold perfect crisp corners, and put just the right amount of tape on all the seams. As far as I know, she kept her promise and never looked. She always acted surprised when she reopened them…
We tried to get her to close her eyes while we mixed her cake, but I imagine she peeked a little there.
She loved birds, literally had them eating out of her hand. Little black-capped chickadees, right outside of the kitchen window. And she knew hundreds of bird calls. She'd get up early in the morning, long before the sun, and head to the local park and forest area to see what she could spot of her feathered friends as well as some of the furry ones. While I hated getting out of my warm bed those chilly mornings, I loved going with her. (Although, no matter how many times she pointed out the beavers, I don't think my little eyes were ever fast enough to see more than the resulting splash.)
Tea was her drink of choice. She'd drink coffee, too, but tea was her real pleasure. Iced was perfect for meals, but a hot cup went with anything and everything, whether celebrating, encouraging, or recovering. And it was always sweet. But unfortunately, in the course of the day, I'm pretty sure her one cup got heated in the microwave at least 5 times because she kept getting too interrupted to drink it.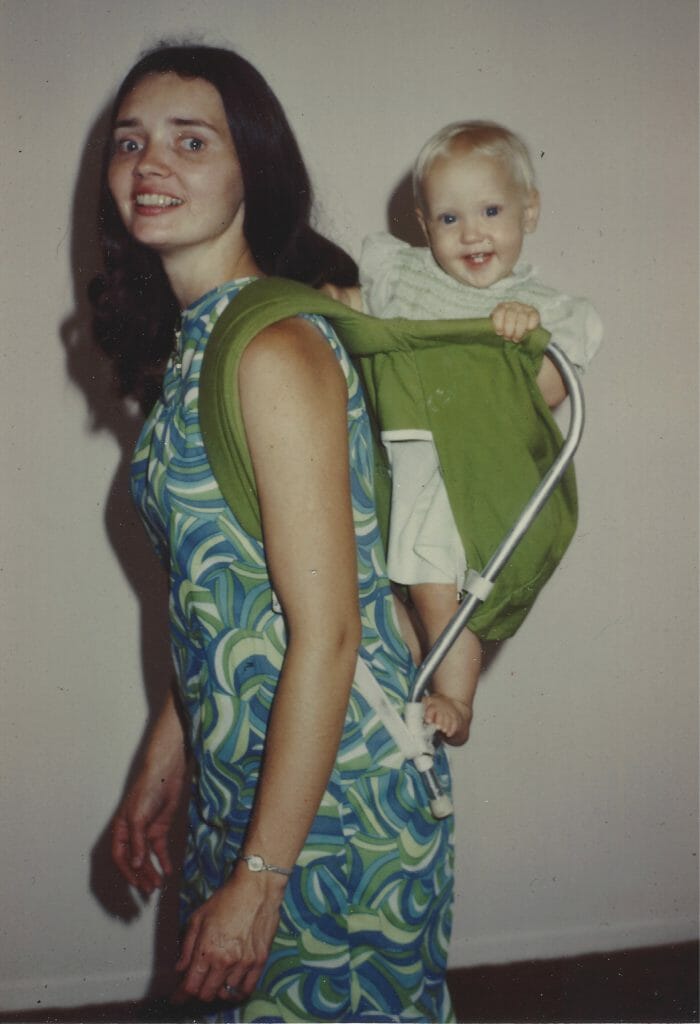 She was a teacher-extraordinaire. Baked bread and cakes from scratch. And talk about a green thumb! She was a conservationist before it was popular–always working a compost pile in a corner of our city home to feed the small farm of food and flowering plants that she grew there.
Perfect? Well, it's easy to remember her that way. But I suppose she did have her weaknesses. She had a tendency to fall asleep at the table, and, probably to our shame, we had fun more than once waking her up to see how badly she'd jump. Walk in to the house unannounced, and you'd probably find a pile of papers and bills and odds-and-ends on the antique dry-sink she'd refurbished. However, that never stopped her from welcoming you with a warm hug. She had the best hearing but really fought the need for glasses even when we teased her about holding the book three feet away for her to read clearly. And once, as we kids horsed around at the dinner table, she accidentally quipped, "Don't eat with your fingers, eat with your feet!"
Most mornings, though, I found her sitting with her cup of tea and her Bible, spending her first moments of the day with her Lord. Then most evenings, she was looking for a way to serve someone in need, whether it be at home, in our town, or in some village in Africa.
And no matter what time, no matter what was going on in her world, she was always willing to share her Jesus… especially one day when everyone old enough to go to work or school was late and yet she still stopped everything to come sit by a small four-year-old in the kitchen when that little girl asked her how to get saved. It was like the whole earth stopped its spinning while she led me to Christ and His sacrificing Himself on the cross. For me.
I often wonder what she would think of me as a mother. She never saw my children, except for the one that I never met, the one I imagine her holding now in heaven.
Would she be proud of me? Proud of the woman I've become? Proud of the mothering I've tried to do? I hope so. Because who I am today as a mom is because of all the days I watched her sacrificially care for us.
No, I don't have her green thumb, and, apart from a chickadee, a nuthatch, or a robin, I'm as bad at birds' names as I am at people's, but I've taught my kids to bake from scratch, they've all been a recipient of at least one of my crazy teaching ideas, they each know the incredible value of a good cup of tea, and I'm pretty good at wrapping gifts with my eyes closed. And, okay, if you come into my house unannounced, you will probably find a pile of papers on the counter, and my kids can rattle off a list of absolutely hilarious things that have come out of my mouth. Yes, I am my mother's daughter.
But more than any of that, I want to be like my mom because–by her words, by her life, and by her heart–she led me to Jesus…Who loves me as I am, but changes me daily by His grace.
Have I made mistakes as a mom? Yes, more than I can count. Those, I can't put on her.
But I have been blessed in more ways than I know to have had a mom like her. And one day, in heaven, I will thank her in person.
Today… well, Proverbs says it best, so I'll thank God in prayer –a good chance to wrap this gift with my eyes closed.
Her children stand up and call her blessed….
"Many women do excellent things.
    But you are better than all the others."
Charm can fool you. Beauty fades.
    But a woman who has respect for the Lord should be praised.
Proverbs 31:28-31, paraphrased
Miss you, Mom…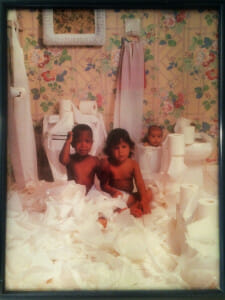 Looking for other Mother's Day articles? Try A Mother's Strength–because sometimes you're just not sure if you have any left