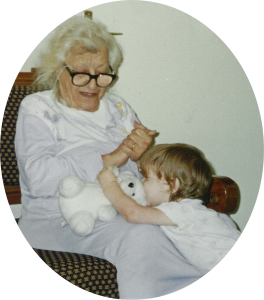 It was a moment to cherish.
There I sat in her living room watching this precious woman, my grandmother-in-law, play her special version of patty-cake with my fifteen-month-old daughter. I couldn't understand the words (they were in another language), but the affection was clear.
And I knew I was blessed to be there.
The trip to see her took us through eight times zones. The visit only lasted a week. But what I saw in this dear lady would stay with me for a lifetime.
She was a sweetheart. Unfortunately, struck with Alzheimer's, most days she couldn't remember where she was or who she lived with.
Examples?
The day she thought her daughter's kitchen was a restaurant. So she paid her for supper—with coins she'd found in her grandson's wallet.
And the hilarious morning her husband and son-in-law desperately searched for the camera, only to realize that every time they turned their backs, she re-hid it someplace they had just looked.
When she was with my baby girl? Her great-granddaughter? Sometimes she thought she was her own daughter. Sometimes her grandson.
But, amazingly, one thing she never forgot?
Who Christ was.
The moment you walked into the room, she'd grasp your hand and ask,
"Do you know my Jesus?"
I know. Not everyone with Alzheimer's is that way. Sadly, some people seem to have a complete character change.
But with my husband's "Téta," I was privileged to see a woman whose eyes shone with the knowledge of her Savior until the end.
What a faith-builder!
How did she get there? From what I understand, her relationship with Jesus started around the time her two daughters were "tweens." Up 'til then, she'd lived the whole "earn your way to heaven" thing.
But she realized it was impossible. That's when she heard about Christ's salvation.
And with simple faith, she clung to Him.
Then she prayed. And prayed. And prayed. Soon, her daughters also accepted Christ as their Lord, with their own stories of coming to the end of themselves. And both grew up to marry preachers.
But her husband? He took longer. In fact, for years, he didn't take her following Christ very well. Yes, he was a devoted dad, a doting grandpa, but he had no use for her faith. He thought it made her weak, a point he frequently pointed out.
Yet she kept believing.
Day after day, she knelt by her bed, reading her Bible, praying. She memorized verses, memorized hymns. And lived for her Lord.
As the years passed and the Alzheimer's disease began to take its toll on her mind, I don't know if she got discouraged. I imagine she did. But she kept praying.
Such that, one day, decades later, my mother-in-law got a phone call. Her dad was crying. He had finally humbled himself to realize he was a sinner. And he needed Jesus.
I know there was much rejoicing in heaven. There definitely was on earth.
But his wife didn't know.
By then, the Alzheimer's had advanced, and while she knew her Jesus, she didn't always recognize her husband.
And he wept.
That's another picture I'll never forget from that one-week visit. This strong man, once so proud, now kneeling in church, wet regret running down his cheeks.  The reason? "She doesn't know that all her praying turned me to Jesus. I made fun of her so badly, but she never gave up."
My husband, his grandson, hugged him, reminding him that Christ forgave him, and, one day in heaven, his wife would know.
The tears continued, but Grandpa stood, singing in worship with all the strength in his body, arms lifted high.
And Grandma didn't have much longer to wait.
This faithful woman, my daughter's great-grandmother, died two weeks later. It was not lost on me that if our trip had been just a little bit later, I would have missed the chance to meet her. And the chance to see who she was.
Years have passed. Her great-grandkids, many more now, are almost full-grown, but every time, I think of her, I realize the truth.
I only met her for a week, but her witness has changed generations.
Every Sunday at church those great-grandkids sing. Every evening at dinner they bow their heads in prayer. And throughout the days, they text, encouraging each other on how Christ is doing something in their lives—even in the hard times.
All that began with a woman clinging to Christ. And praying for her family.
I suppose the impact of it all shows best in one more moment. Again, an image I was honored to see.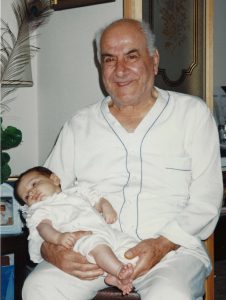 The last hours of her husband.
The one who had filled so many of those prayers.
Four years had passed since she'd gone to heaven. He had since come to the States, and now he lay in bed surrounded by family.
He couldn't speak much, but as his daughter, his son-in-law, and his grandkids sang hymns and read scriptures, he raised his hand.
"What do you need, Grandpa?"
He pointed up, but we didn't understand.
He put up another finger, and spread them in a "V."
And his grandson said, "Victory, Grandpa? Victory in Jesus?"
And he smiled.
She never forgot. Now, neither would he.
"Therefore, since we have so great a cloud witnesses surrounding us, let us… [fix] our eyes on Jesus, the author and perfecter of our faith." (Hebrews 12:1-2, NASB)