Parenting can be 24/7. For years. And for much of that time, you labor to work yourself out of the job. But some parts?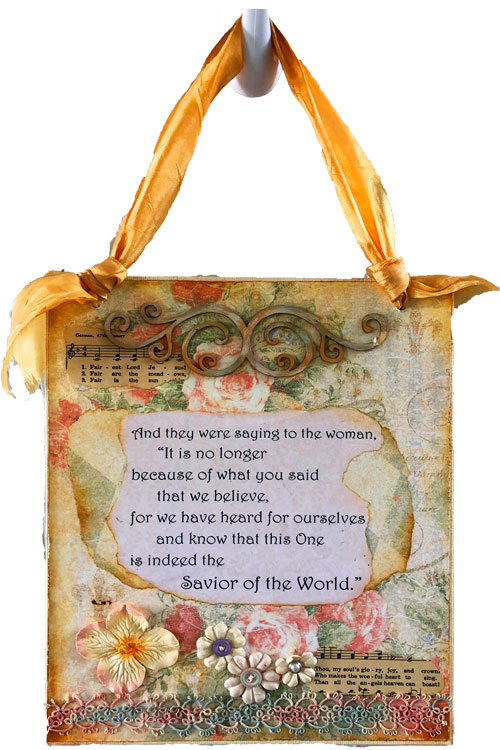 They never end.
Early on, when my kids were little, the Lord directed me to a verse. It helped me see my purpose, my mission in mothering.
John 4 tells the story of the Samaritan woman: the woman at the well who'd had five husbands, and the man she was living with now was not her husband.
No, not your normal mothering passage…
But she met Jesus, and He "told [her] all the things that [she] had done."
She was a sinner. She had nothing to offer in herself. But she ran to the others in town and said,
"Come see a man… Can this be the Christ?" (John 4:29, ESV)
She directed them to Him, and they went. And because of her witness, they heard Him. They listened to Him. They asked Him to stay.
And many believed—because the woman testified of what He'd done. And many more believed because of His word.
And then comes verse 42. My verse.
"They were saying to the woman, 'It is no longer because of what you said that we believe, for we have heard for ourselves and know that this One is indeed the Savior of the world."
If you turn to this verse in my Bible, you'll see handwritten in the margin, "My prayer for my kids."
That verse, John 4:42, has been my goal as a mom: that my children would not just believe because I said it.
Because, if it's just my word, eventually they will hear someone else who is more polished, perhaps more convincing, with a false "different gospel." (2 Cor. 11:4)

Or eventually I, like the woman at the well, will fail at something. Not that I would end up with five and a half husbands. But I am not perfect. I mess up. Sooner or later I will disappoint them, and, sadly at some point and time, I'm sure my kids will wonder, "Mom, can we believe anything you've said?"
But, thank goodness, in Christ's perfection, my kids can always believe what He says, because, by His grace, they can hear Him for themselves in His word and know that He is the Savior of the world.
Now that my kids are older, I can see the fruit of the Spirit in them. They know Jesus. They have accepted Him as their Savior. They are not perfect either, and they know they need to rest in His work of grace.
But my job isn't over. Yes, most of them are out of college, and one has just started.
But they still need me taking them to Jesus.
Recently we went through a season of trials and heartache. If I wrote a novel of our lives, that chapter would be titled, "Disappointments." Some things they wanted didn't happen. Things they worked hard for fell through. For some, they walked through doors they wished they hadn't.
In each case, they had a choice.
Turn to Christ, drawing closer to His comfort, learning how they can grow more like Him in the circumstances.
Or become bitter, developing survival skills that aren't necessarily Godly.
And with their choices, came three choices for me, their Mama Bear. I could stress out, wringing my hands and beating down doors to "fix" the problem.
Believe me, I've been tempted.
On the opposite end, I could throw a trite "Whatever. It's in God's hands; don't worry, be happy"—misrepresenting Rom. 8:28 and God's sovereignty all in one.
Or I could accept the privilege that Christ has given me in praying for my kids. Not just with short, "Help them, God," prayers, although there have been many of those. But also, minutes, hours, days—and nights—of intercessory prayer, holding them up to His throne of grace. Praying for His wisdom for them. For His strength. For His word to become alive in a way they've never seen, so they would know He is their Savior no matter what.
Like Daniel in the Old Testament:
He was distressed, pale from the things he saw. He fell on his face, exhausted. But he prayed. And prayed. And prayed. Even when those prayers sent him to the lion's den.
And then Daniel saw what the Lord could really do.
And Moses:
When the people of Israel battled for the Lord against the Amaleks, Moses stood on the top of the hill holding the staff of God. While Moses held the staff up to the heavens, Israel prevailed. If Moses dropped his hand, Amalek prevailed. You can bet he did everything he could to keep those hands in the air!
But when he was tired? He still held that staff. He didn't pass it off to someone else.
But he found support from those around him: "Moses' hands were heavy." So, Aaron and Hur put a stone under Moses, and he sat on it; and Aaron and Hur supported his hands on either side. "And his hands were steady until the sun set." And they overwhelmed the Amaleks (Exodus 17:12).
Like the woman at the well, I can keep pointing to the One who is the Savior of the world.
Like Daniel, I can pray, knowing the Lord delivers.
Like Moses, I can raise my arms to God for strength in the battle, supported by the rest of His followers.
and Like Moses' friends, I can be a shoulder to lean on when my loved ones are weary.
Yes, children grow up, but some parts of mothering never end. I don't chase toddlers or drive youngsters all over town. But they still need me to kneel, praying daily, hourly, minute by minute.
The job is still there.
It just requires less footwork. And more knees.
(Unless otherwise noted, Bible verses are taken from the NASB translation)