It came to me unexpectedly–A gift I never expected.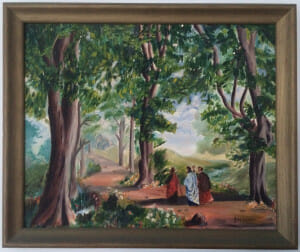 ∾
It's a painting of the Road to Emmaus, the story beautifully chronicled in Luke 24:13-35:
[A quick apology for the length. Longer than most blogs should be, I suppose it should really be titled a message.. I hope the truth of the story still touches your heart. ]
The Story–in my words…
Two disciples, one named Cleopas, were walking from Jerusalem to nearby Emmaus, "only" 7 miles away. Were they overwhelmed with the length? Perhaps not. They were used to walking long distances then. But I'd bet anything, afterwards, they'd wished it'd been much longer. Of course, something tells me when they made the unexpected return-7-mile-trip back to Jerusalem that night, they were nearly running.
See, as they walked the first trip there, they "talked with each other about all these things which had taken place." What things? Well, the Thursday before, their beloved leader –the one they had expected to rise up and free them from foreign rule– had been arrested and, on Friday, killed. Crucified. A form of death designed to be every bit as painful as it could possibly be. And all his followers had run away in fear.
The Mourners
But Sunday, some women braved the early dawn for a trip to the tomb where His dead body had been laid. Imagine them: scared of being spotted! But wanting desperately to behold their beloved leader just once more…To say one final goodbye.
But when they got there, the grave was open, and His body was gone! And while they stood trying to figure out what was going on, "two men in dazzling clothes"
–in other words, angels—
said to them, "Why do you seek the living One among the dead? He is not here, but He has risen…" (Luke 24:4-8)
And the women ran to tell the disciples –who thought their words were nonsense. Peter and John, two of His disciples, ran to the tomb to see for themselves.
And found it just as the women had said.
The Witnesses
Somewhere in the course of the morning, two people knew without a doubt that what the angels said was true.
First, Mary Magdalene–who came back to the garden with Peter and John and cried for her missing Teacher. She begged the gardener, "Where have you laid him?" And then discovered that wasn't the gardener. It was her Lord! Risen from the grave, just like He'd said!
And then, again sometime that day, He also appeared to Peter. We don't have a record of that first meeting with His follower who denied Him three times, but we see it noted in several spots of scripture.
Skeptical?  I'm thinking there were many then who were as well. Including the two disciples walking the long seven miles to Emmaus.
Later that Day
And so they –Cleopas and the unnamed one– walked…and talked…
But suddenly, they weren't alone. You can see it in the picture. A third man. He approached and began traveling with them. "But their eyes were prevented from recognizing Him."
I wonder how often that happens?
So He asked them, "What are you two talking about?"
Insert Foot–or maybe the Other one…
You know those times when you open your mouth and blurt something stupid–something you wish like crazy you could take back later? Did Cleopas experience that? Did he pound his forehead with mortification? Call himself all kinds of foolish? Whatever his thoughts were later, his incredulity was clear right then: "Are you the only one visiting Jerusalem who doesn't know what's happened here in these days?"
Did the "visitor" want to chuckle? Was He biting His cheek trying not to laugh out loud?
Who knows? All He said was, "What things?"
Now, obviously, I wasn't there, but, with the mind of a storyteller, I can hear them tripping over each other, barely able to get it out fast enough:
"About Jesus–a prophet, mighty in deed–delivered to death–crucified–
Then with unfulfilled expectation:
"We were hoping He'd redeem Israel…But–it's the third day since He died."
Then not sure what to believe:
"And these women? They went to the tomb. They didn't find His body! Said angels said He was alive. Then others went to see and found it just like the women said. But Him?"
Finally, confounded:
"Him they didn't see."
But HE…
Now my Bible translation ends the next verse in an exclamation point. Did He want to pound His head at their blindness?
"O foolish ones, and slow of heart to believe all that the prophets have spoken! Was it not necessary that the Christ should suffer these things and enter into His glory?"
"And going all the way back to Moses and all the Prophets, He explained the Scriptures to them–all the things concerning Himself."
Their Response–Heart and Soul
Apparently, while their eyes were blind on that walk, their hearts were not. "
Didn't our hearts burn within us while He was talking?"
And while 7 miles seems long to me, sooner or later, it does end; they reached their destination. Now what? Well, apparently the trip took long enough that it was now late, so they invited Him to stay. Perhaps an excuse to hear more? He obliged them. He went in, reclined at the table with them, took the bread, blessed it, broke it, and gave it to them.
"Then their eyes were open and they recognized Him."
Now when I was young, my Sunday school performed this story as a play. At this point in the script, because my brother, playing the part of Jesus, was not really Jesus, he rolled off the picnic bench and under the table. It was the part we all got excited about.
If the audience blinked at just the right time, my brother was there and then–suddenly–vanished!
I have a vague recollection that the roll may have pulled some of the tablecloth down, risking the glasses and plates thereon, and the drop of his body mass may have produced a loud thunk, thunk, thunk as he hit table legs and floor.
But it was the idea! That, in the true story, Christ just vanished from their sight!
Just as their eyes were finally seeing clearly!
The Sprint…to Testify
And then those two were up and moving. They returned–that very hour–to Jerusalem, to the other disciples. Again, I suspect "returned" could have been spelled r-a-n.
And I have to admit, I chuckle when I read verse 24:35: "They began to relate their experiences on the road…" Okay, Dr. Luke. Somehow I'm thinking it was more like arms waving and voices shouting and tears flowing and jaws dropping.
And then, in the midst of it all, He was there. Himself. Standing in their midst. With simple words:
"Peace to you." 
Eyes Wide Open…
Can you see it? It makes me think of those wonderful videos that we never get tired of: the soldiers coming home to surprise kids and wives and sisters and mothers. Only a hundred times better.
Because this coming home changed our lives
–not just for the moment or even for the length of time of a viral YouTube clip–
but for all eternity.
Because He was DEAD. And Now He is ALIVE. Bringing Peace for us.
∾
That's what this painting reminds me daily: He's there with me.
Whether I see Him or not.
Sometimes He's walking beside me. Sometimes He's pushing me from behind. Sometimes He's carrying me. But He's always there.
So how did I come by this great gift? The painting, I mean.
From the painter–although she did not know it. Until now.
The Artist's Story
See, she painted it–I believe in an art class. Some five decades ago. Perhaps as her rendition of Robert Zund's famous painting with a similar name.
She gave it as a thank you to a couple who, from my understanding, made sure she and her young husband could get to church, giving them rides several times a week.
Mile after mile, they talked, shared, worshiped the Lord Jesus together, and often shared meals … And she painted them this picture as a thank you.
Then life happened. She moved away with her young family to serve the Lord in far off lands. Both families grew in both number and age. Months became years; years became decades. As life tends to do, it brought trials…tribulations….Some sweet times. Some scary. Both families had to trust God to get them through… To walk with them each step of the Way….Even when they didn't always recognize Him.
For the painter, her son, now an adult, returned to the States for school. And met a young blond, whom he married and with whom he started a new life…with a home and kids and trials and tribulations… Some sweet times. Some scary. And they as well had to trust God to get them through… walk with them each step of the Way….Even when they didn't always recognize Him.
And one day, again, decades down that path, the blond got a phone call. About a gift. A painting.
The painting's recipients had passed on. They no longer needed the painting to remind them of their walk with Him. They could see Him face to face. And someone who knew them knew someone who knew her –and called. Since it was painted by family, Would the blond like it?
Would I?? Definitely! What a blessing!
And so now, this precious gift hangs in my family room. A gift I never expected.
A Sweet Visual
It's a reminder of the one who painted it–my generous mother-in-law–who loves the Lord with all her heart, always longing for others to walk with Him, too.
And, even more, it's a reminder of The One it's painted of.
But the REAL Gift
That He died on that Friday and rose on Sunday.
That He then returned:
*To walk that long road to Emmaus.
*To appear to Peter and Mary Magdalene and later to all the disciples, including doubting Thomas.
*To explain "all the way back to Moses and all the Prophets–all the things concerning Himself"
*…to them — and to me.
That His purpose in coming was to rise up and free us from foreign rule: The rule of Sin. Unrighteousness.
So completely foreign to Him. But imprisoning our hearts.
And so it required that He die first. For us. Instead of us.
And then He rose again, to defeat death and walk beside us forever!
Doesn't it make our hearts burn within us?
What a gift! Completely unexpected.
Ahh, Lord Jesus, let my eyes be open to You and to Your glorious news:
He Is Risen! He is Risen Indeed!
†
[Just a note: For any of you who heard Crossway Pastor Mike Bullmore's message on Easter Sunday, I swear I wrote this long before I heard him. But I have to say, it was encouraging to realize the Lord had given us similar thoughts in the storytelling.  If you'd also like to enjoy his message, click here.]
(All Bible verses are taken or paraphrased from the NASB translation.)