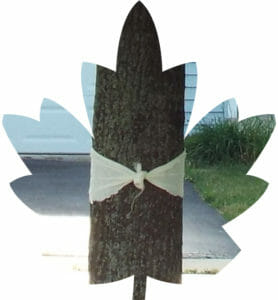 My daughter asked it. "Mom, why is there a cloth sign tied around our tree?"
Simple.
Because I am now officially a tree hugger.
See, we got a notice in the mail. From the City Forester.
"It has been determined the following work will need to be done in front of your home. Tree will be removed for the following reasons: Emerald Ash Borer. Tree Species: Ash."
I was upset.
I suppose there's some precedent for my response:
When I was young, I cried for a full afternoon the day they cut down the tree in my backyard. We were adding on to our house, and since they didn't like my idea of letting the tree grow in the middle of our dining room, (wouldn't that have made for an interesting centerpiece??), down it went.
That tree was big! How big was it?
It was so big, we climbed it in our backyard to see over the two stories of the house into the front yard…then yelled "hello" to people walking down the sidewalk. They'd turn around and around, trying to figure out where the disembodied voices came from. We thought it was the greatest joke.
Yes, we were kids…
I think it was the first tree I ever climbed. And it was base for countless games of tag.
We had other trees, but none that held so many memories. So while I was later glad for the extra space in the new part of the house, that day they yelled timber still saddens me.
Maybe that's why I hugged so hard this time.
We don't have that many trees around our house now. Every one we have, we planted. Or at least we were there when they planted it.
And since we had our house built in a new subdivision, I remember how many years we had to wait for the birds to even find our trees.
So, needless to say, I like my greenery! My kids do, too. I remember for years before our sprouts were higher than Nehemiah (Get it? "Knee-high-myah"?) or even Job's friend Bildad (you know, the Shuhite: "Shoe-height"—Okay, I'll stop), the kids envied relatives because they had trees to climb and could make leaf piles six or seven feet tall… Meanwhile, we blew our leaves with a hair dryer.
So now that our trees are finally looking like trees and not saplings, I don't want to loose them!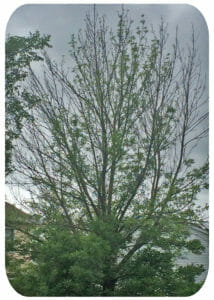 I know. I get it. That Emerald Ash Borer is a pain. Countless numbers of Ash trees have been destroyed by it. Such elegant trees with dainty leaves in the summer, and, in the winter, each willowy branch iced over in glistening snow—yet, now, all over the city, you can see signs of the horrible pests, with poor Ash skeletons reaching naked to the sky. Or just sad stumps left behind. It's difficult to even dispose of the dead Ash in such a way that you don't spread the pests further. Carefully removing them and carting them off is important.
Yes. I get it.
So why am I so upset?
Because my tree is NOT an ASH!
It's a Maple!
A beautiful, thriving, golden Maple.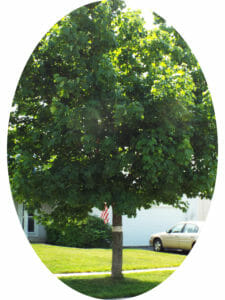 Not sure how they misidentified it.
They like throwing babies out with bathwater?

Maybe they rushed to conclusions? "…There are trees with the disease. This is a tree. Therefore it must have the disease…"??
They think its okay to destroy the good with the bad?
Whatever their reason, as frequently happens with daily events, there is a tie-in to life:
Why take the time to really figure out what the issues are in a problem? In a program? In a relationship?
Just throw it away, move on, start over….
Ignore the fact that you're leaving a scarred landscape in your wake.
No, I'm NOT suggesting you ignore the bad. That needs to be addressed. Worked through. Carefully identified and doctored. If ignored, it WILL fester.
But when you have a headache, it doesn't do you any good to chop off your head!
Sometimes we just get so angry at the illness we see, that we slash and burn whatever—and whoever—is in our path. And we're left wondering why we're the only ones left.  ­
Instead of jumping to what's easiest, let's fight to look for and save the good while gently working through the bad. That could save our marriages, our friendships, our jobs, our society.
That said, …my tree?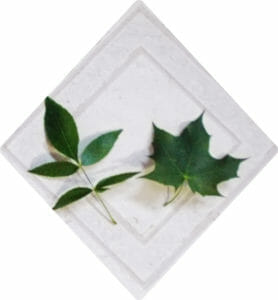 I called the city and asked to speak to whoever was planning to cut mine down. And begged them not to. Because it's not an Ash. It's a Maple!
They transferred my call to the City Forester's Department, and I promptly got cut off. So I called back and re-explained, and they said the City Forester would come back out to my house and re-evaluate the tree.
BUT. If the City Forester determined that a Maple was an Ash the first time, what hope did I have the second?
So I took matters into my own hands. I cut a piece of cloth, grabbed a magic marker, wrote my clear and present message, and tied it around that tree in a firm but loving hug.
So now my tree reads,  "I am a MAPLE!! 🙂  Please don't turn me to Ash!"
But examine everything carefully; hold fast to that which is good.
1 Thessalonians 5:21, NASB