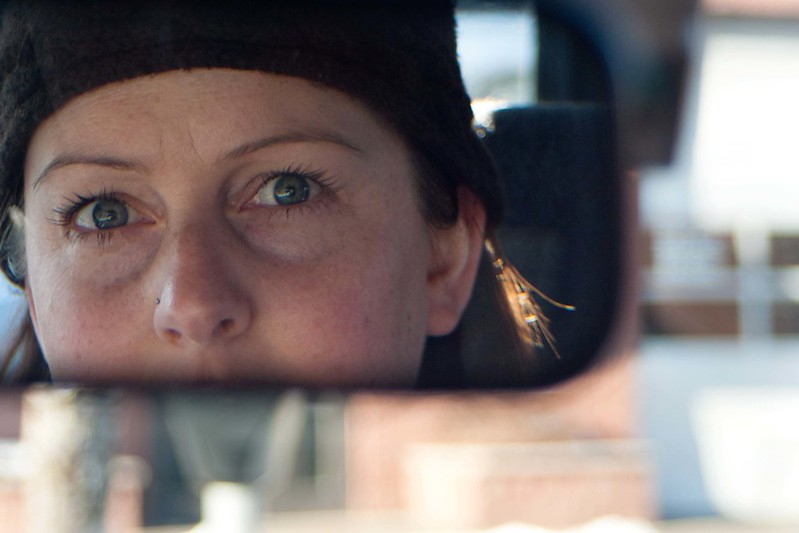 With a title like that, I guess I could take this many directions.
For one, "forgetting what lies behind, and pressing on to what's ahead." (Phil. 3:13, paraphrased)
After all, it can be dangerous to always have your eyes in that mirror. Bumpers come up fast.
On the other hand, with five kids in the car, that mirror often became the eyes in the back of my head.
There was the time I should have used it more…
We had just spent the morning at MOPS (Mothers of Preschoolers)—a chance for moms to attach masking-tape nametags to their young charges, drop them off in chaperoned playrooms, and, for a couple of hours, enjoy food, fun, and conversation with other women…without worrying that their little ones were getting into trouble.
Of course, at some point you pick up those mischief-makers.
Mine had been good that morning, so I decided to treat them to a happy meal, thankful for the simplicity of the drive thru.
But I wasn't prepared for the nasty looks from the cashier. Forget service with a smile!
The woman didn't say anything, but her expression screamed animosity as she peered into my van. I was clearly a horrible mother.
And that's when I finally thought to look in my rearview mirror…
Each of my kids had taken those masking-tape nametags and placed them across their lips—Looking like I'd taped their mouths shut.
Great!
Other times, using my rearview mirror made me cry.
Like the day the kids piled in the car after swim lessons. With two-week sessions offered each summer, I'd sit waiting as each child went into the swimming pool and out again, each one working to pass the next Red Cross level.
Unfortunately, it seemed the instructors had an unspoken rule. You had to do two two-week sessions in any level to pass. One session was never enough. Something was always graded down.
But as it was unspoken, the kids didn't really accept it. They wanted to move faster, and in this particular session, as it was the last one of the summer, one daughter swam her little fins off to succeed.
Now, my kids are pretty normal, with that touch of competitiveness between them, plus the typical amount of sibling teasing. They all generally knew how to give it. They didn't always take it so well. So as this daughter climbed into the back of the van and burst into tears because she hadn't passed the level, I wasn't sure how her siblings would respond. Blow it off as "just the way the program is?" Tell her she was being a baby? Ignore her altogether?
I put the van in gear to pull away from the curb and checked the rearview mirror one last time—only to stop for a moment and wipe some tears of my own.
Framed in the reflection, as my daughter wept and glared at her one-point-away-from-perfect report card, her brother reached around her and gently pressed her head against his shoulder, resting his hand there in comfort.
That rearview image will stay with me for a long time—a sweet reflection to encourage me when the kids aren't getting along so well.
That's the thing about rear views.
Yes, we can spend too much time looking back, wishing we could go back to good times, rehashing the bad. The "I wish's" and "if only's" have kept me up more nights than they should have. So wistful for nostalgia that we ignore the here and now. Unwilling to grow. Unwilling to let go. Unforgiving. Unforgiven.
We can't dwell there.
But sometimes looking back can clarify the present or launch us toward the future. That hindsight 20/20 and rock-solid experience to build on. We can't ignore that either.
The Balance
Life moves on, but it's okay to look back and remember. In fact, God told us to.
"You shall remember all the way which the Lord your God has led you in the wilderness." (Deuteronomy 8:2)
Like in Joshua, right after the Lord opens the Jordan River so the people can cross on dry land. He tells one man from each tribe to go back into the middle of the Jordan and pick up a stone.
Not some tiny rock, but something that has to be hefted on their shoulder.
"Carry them over with you and lay them down in the lodging place where you will lodge tonight." (Joshua 4:3b)
Why?
"So your children ask later, saying, 'What do these stones mean to you?' (Joshua 4:6)
And the parents could tell the story of how the Lord performed this miracle—again.
Because He'd already done this miracle once before. He divided the Red Sea so they could cross on dry land, escaping the Egyptians.
But steps later, they forgot what He'd done and whined about not having enough water.
So this time when He divided the Jordan, He gave them something to remember. "These stones shall become a memorial to the sons of Israel forever."
The oxymoron: The rearview that keeps you grounded but moving.
There are plenty of other places it works.
Birthdays—those dates pop up, reminding me of people I haven't seen in years. But I pray for them wherever they are now.
Cards—I keep most of them, a chance to pull them out now and again, remembering the reason for the greeting—sometimes joyous, sometimes sad—and the people who cared enough to send them.
Notes in the margins of my Bible—when the passage hit me, why it hit me, and how it connects to some other part of life.
In fact, the whole Bible is a rearview that can impact our today and tomorrow. I've written about it before, how at one point, the Lord took my family through the fire, where nothing in my life seemed to work but studying and reading the Bible.
And when that period was over, I wrote my own "book of remembrance." A list of verses that show the wonders of His work, His hand, His heart among His people. (It's 32 pages long—and if you've ever seen my tiny handwriting, you know. That's a lot of verses.)
I keep it with my Bible, so when I find myself afraid of the present and future, I can gaze through those promises from the past, reminding myself of that good "fear of the Lord, esteeming His name" (Malachi 3: 16).
I suppose in some ways, that's why I write this blog. As a reminder to me that we can learn from life's rearview lessons. Setting out stones of remembrance to read and re-read.
Quickly identifying when somethings likely to trip us up (like my kids with their taped mouths), and
Fortifying with memories of blessings from the past (like my son's gentle comfort).
We can't live there, but we can learn from it. Because the clearest image in my rearview mirror?
Jesus.
2000 years ago, there was a cross. And He died on it. For me. That's something to remember in itself.
But then there was the grave. Empty. Again, there was a stone of remembrance, but this time rolled away. Because He beat death and rose victorious. For me.
And He told His disciples, "Check this rearview mirror. Regularly."
Okay, those weren't His exact words.
But He sat them down at the table and broke the bread and drank the wine and said,
"Do this in remembrance of Me." (Luke 22:19)
He was showing them His death, explaining to them His life.
Because He knew they would need the reminder. It's the ultimate rearview gaze that points to the future. Not stuck in the past, but directing us through life in the fullest. Through Him. And with Him.
That's a pretty cool view.
(Unless otherwise noted, Bible references are taken from the NASB translation)